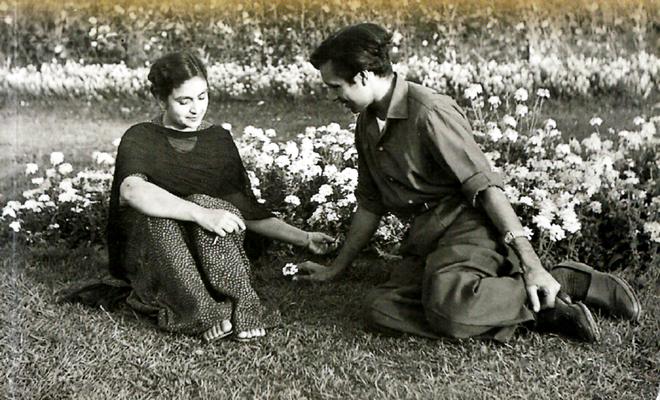 Manpriya Singh
What makes it a love less ordinary is not that it's little understood, most wondered about and still in search of a name. What makes the relationship a love less ordinary is the soulful communion, the spiritual quest that inspired whimsical poems and writing that now stand frozen in time.
Chandigarh Sangeet Natak Akademi presents Imroz, a 45-minute venture into the world of Imroz and Amrita Pritam. Envisioned by Harjit Singh, the film provides insight into the life of Imroz. Shares Harjit, "I met Imroz for the first time in 1977 and they have been a part of my life ever since. Incidentally, I got married also at Amrita Pritam's house."
Life's journey
The film documents the poetic life of Inderjeet, a man of many talents, who weathered storms and critique, upheaval and tribulations. Nevertheless, he stood steadfast and constant in his love for Pritam, an extra-ordinary human being, who challenged every convention prevalent belief and tradition. Shares Harjit, "The film traces the transcendence of Inderjeet into Imroz, why he comparatively remained obscured by the phenomenal success enjoyed by Amrita, as one of the greatest writers of Punjabi literature."
The decision of an audio-visual tribute was rather a spur of the moment thing than a deliberate effort. "I happened to fall sick a few years back and Imroz came over to meet me, that's when my wife suggested that I should make a film on him."
The suggestion, supposed to have been made without much thought, clicked immediately, for several reasons. "At the time, there were no sponsors, so script, nothing." Save for the decision to go ahead with the film. "I have been working on and off for three and a half years for the film. Even though in between work started on some other film." Has Imroz, seen the film? "He has seen it and he really liked it." There comes the much needed nod of approval from the source of inspiration. He adds, "What has always fascinated me about their relationship is the fact they were soul-mates in the sense of the world, inspired each other to great literary heights. She wrote as many as five or six novels based on him. All along they supported each other and were in a strong creative association." The film has been shot at Delhi, Pinjore Gardens, Amritsar, Jalandhar and a lot of stretches of Himachal."
Having worked on a subject that spells intense in all caps, it's time for some light hearted drama. "After this, I'd like to make a children's film but once again I haven't thought about the details as of now," he signs off.
manpriya@tribunemail.com
Top News
Less than a percentage point in the vote share separated the...
Political journey of Mann started when he resigned from Indi...
From resistance against Mughal invaders to British Empire, f...
Punjab CM Bhagwant Mann's leadership also under scanner
The result clearly indicates that anger of voters against tr...