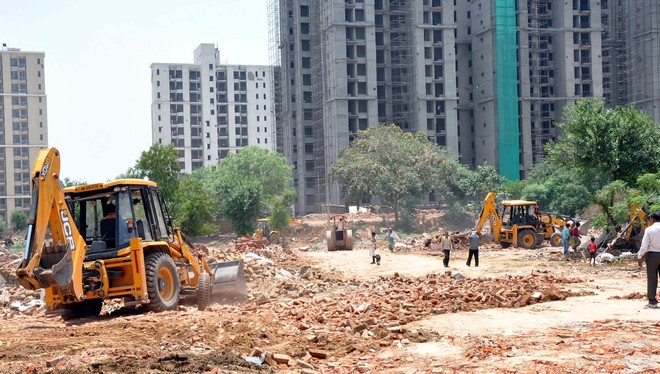 Sumedha Sharma
Tribune News Service
Gurgaon, May 16
The Congress has accused the BJP government of helping corporates by demolishing homes in a century-old Fatehpur Jharsa village yesterday.
Congress leader Capt Ajay Yadav, in a statement here today, threatened to launch an agitation against the government.
"They are a bunch of hypocrites. On one hand, they raise hue and cry over land deals and set up commissions to malign Robert Vadra and, on the other, they use force on old men and woman and raze down decades-old houses to help corporates with their projects," he said.
"People whose houses have been demolished should have been rehabilitated before carrying out the drive. You can't render them homeless. The Congress will soon protest not just against the autocratic government, but also the Gurgaon police's rowdyism."
The yesterday's arrest of AAP councillor Nisha Singh has, meanwhile, snowballed into a controversy as the Congress accused the police of being biased. They did book party leaders Khazan Singh and Pradeep Jaildar in yesterday's protest. but did not arrest them.
"The arrest of Nisha Singh has raised questions on the Gurgaon police's impartiality. Nisha was filming the police brutality on her mobile phone and that is why she was attacked and arrested. Like her, Congress leaders were at the forefront of the protest. They have been booked under the same charges, but not arrested. How can the police justify this?" a statement by the party read.
Till the filing of the report, Nisha had not been discharged from hospital and produced in court, while nine other women arrested with her had already been sent to jail.
More than 20 villagers, including women and children, and 15 policemen were injured yesterday during a clash at Fatehpur Jharsa during a demolition drive by the Haryana Urban Development Authority. The police detained nearly 50 protesters who pelted the police with stones and cylinders. So far, 19 persons have been arrested.
Nearly 400 policemen and Rapid Action Force personnel were deployed to demolish houses in Dokhar-ki-Dhani colony in HUDA's Sector 47.
Dokhar-ki-Dhani, which came up on panchayat land, was acquired by HUDA in 2005. But the gram panchayat and then sarpanch, opposing the acquisition, did not claim the compensation released by the government. Later, the area came under the Municipal Corporation of Gurgaon and residents accepted the compensation.
The land is earmarked for both commercial and residential purposes. On a 17-acre plot, a hospital has been proposed on 3.65 acres, two group housing societies on1.5 acre each, 60 residential plots and 18-m wide roads.
Top News
Voting for final phase of Gujarat polls ends, counting of vo...
'You (government) are only filing FIRs, but according to you...
Barring a few incidents of violence, polling for the final p...
BJP ruling civic bodies since 2007, won 181 of total 270 mun...
The Delhi govt opposes the Centre's plea saying it will only...