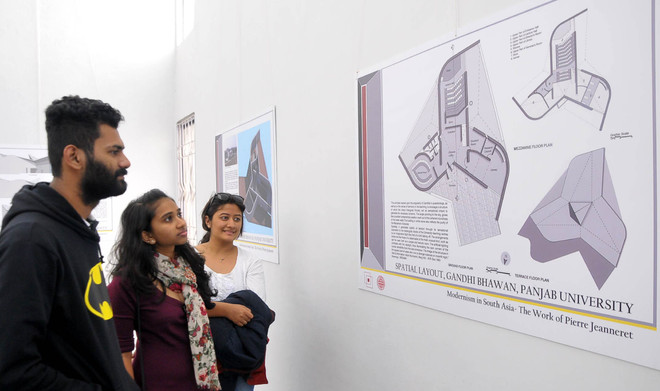 Chandigarh, December 4
An exhibition, "Modernism in South Asia: The Works of Pierre Jeanneret", began at the Museum of Fine Arts, Panjab University, here today.
Vice-Chancellor Prof Arun Kumar Grover inaugurated the exhibition that would remain open till December 12, the 48th death anniversary of noted Swiss architect, Pierre Jeanneret, who collaborated with his more famous cousin Le Corbusier.
Pierre was responsible for a significant amount of designing for the PU, including the Gandhi Bhawan, Administrative Building, Arts and Science Blocks, and hostels.
The Department of Gandhian and Peace Studies and the Department of Art History and Visual Arts, along with the Chandigarh College of Architecture and Dronah, are organising the exhibition.
The curator of Pierre Jeanneret archive at the Canadian Centre for Architecture, Montreal, Canada, Prof Maristella Casciato, delivered the keynote lecture on Jeanneret, The Architect's Craft, at the Gandhi Bhawan auditorium.
Referring to the PU campus, she spoke about the architect's idea of a city within the city of Chandigarh and described the campus as very different from other campuses built by Jeanneret.
Prof Grover referred to the rich heritage and legacy of the university and its transition from Lahore to Chandigarh after partition. He recalled the contribution of Jeanneret and former PUVC Prof AC Joshi.
The Getty Foundation, US, has awarded a conservation planning grant of $1.3 lakh to the Gandhi Bhawan, under its initiative 'Keeping it Modern'. — TNS