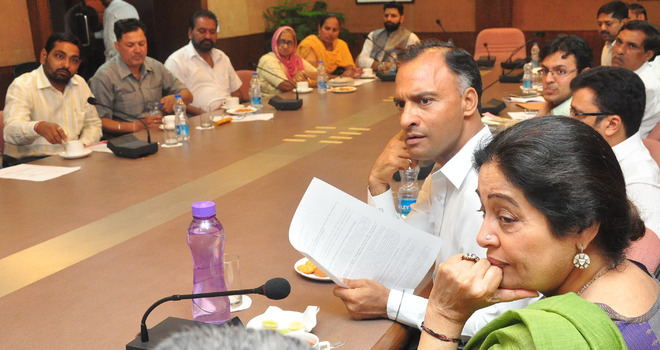 Tribune News Service
Chandigarh, May 27
Use of Punjabi language in official communication between the Chandigarh Administration and village panchayat and enforcement of provisions of the Periphery Control Act on villagers were among the main issues raised by sarpanches of different villages at meeting held at the UT Guest House here today.
The meeting had been called by Member of Parliament from Chandigarh, Kirron Kher, to take note of the problems of various villages falling in the periphery of the city.
Apart from sarpanches of different villages, the Director, Rural Development & Panchayats, the Chairman, panchayat samiti, the Chairperson, zila parishad, and other officials also attended the meeting.
Shingara Singh, Chairman, Panchayat Samiti, and sarpanches of the villages brought to the notice of the MP a number problems related to poor water supply, street lights, repair of streets, carpeting of roads, play grounds and sanitation.
The sarpanches lamented that they were unable to understand the correspondence/government orders which were generally issued in English.
Some of the participants pointed out that they were finding difficulties in obtaining SC/ST certificates, as most of the applications were pending with the Administration. It was also pointed out that the colonies located outside the "laal dora" should be developed and basic amenities like electricity, water supply, sanitation, carpeting of roads and repair of streets be provided there. The Adviser assured that the problems of such colonies will soon be resolved.
The MP said she had taken up the matter with the Home Ministry and the Chandigarh Administration. UT Adviser Vijay Dev, Home Secretary Anurag Aggarwal, Finance Secretary Sarvjit Singh, Municipal Corporation Commissioner Vivek Pratap Singh, were also present at the meeting.