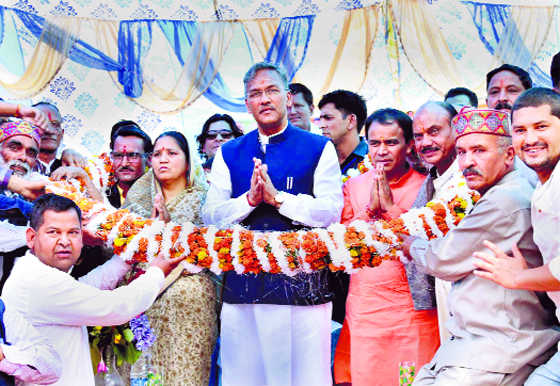 Tribune News Service
Dehradun, June 19
Uttarakhand Chief Minister Trivendra Singh Rawat has called upon the youth to seriously pursue home stay business as the hill state was witnessing the arrival of a large number of tourists.
Rawat was addressing a gathering in the Ghat region of Chamoli district. This was the Chief Minister's first visit to the region after the BJP won the Tharali bypoll in Chamoli. He said starting home stay schemes could be the key source of employment. He also held that the state government was making constant efforts to ensuring better facilities to the tourists arriving in the state.
Referring to other livelihood opportunities in the region, the Chief Minister said villagers could now use pine needles for power generation. The state government had committed itself to purchase all power generated through pine needles. He also laid emphasis on rose farming in the region taking into account ideal environment conditions for the rose cultivation in the region.
The Chief Minister also made several announcements for the Ghat region that included installing machines for solid waste disposal, commencing bus service between Ghat and Dehradun, improving approach road to Nanda Devi temple and beautifying Baraskund temple. He also held that a degree college would be opened shortly in Narayanbagar. He also announced Rs 5 lakh for the renovation of Mahamrityunjay Mahadev Temple. He also thanked the people for ensuring victory for the BJP in the Tharali bypoll.
Later at a multipurpose camp, he heard the grievances of the residents and gave orders for on-the-spot redressal for many. He also directed officers to ensure timely redressal of their problems.
He also visited various stalls put up to highlight government schemes on self-employment opportunities. Higher Education and Co-operatives Minister Dr Dhan Singh Rawat and newly elected Tharali MLA Munni Devi Shah, Chamoli District Magistrate Ashish Joshi and other senior officials were present on the occasion.