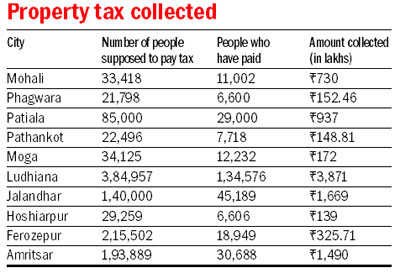 Ruchika M. Khanna
Tribune News Service
Chandigarh, July 21
Poor recovery of user charges by various municipal corporations, councils and committees in the state has become a major cause of worry for the state government, as it prepares to compete for getting funding for the Smart City project for three cities. This poor recovery will also impact the rolling out of urban renewal of all these towns and cities.
With a large section of the state's urban population not being billed for using water and sewerage, the focus of the Local Bodies Department is to ensure that all residents are billed and these bills recovered. Discussions on how to go about the recovery of these pending bills and the implementation of a new water metering policy, wherein all users will have to pay charges in accordance to water used and recorded by meters installed in all households, were held during a meeting of all commissioners of municipal corporations held here yesterday.
Sources in the Local Bodies Department told The Tribune that last year the Urban Department was to collect Rs 154.38 crore, as user charges. "Though the recovery of user charges was almost double that of the previous year, a little over 50 per cent of Punjab's urban population is paying these charges. Also, the user charges imposed are almost one third of the money spent on operation and maintenance of the water supply and sewerage facilities. Each year, over Rs 350 crore is spent only for O&M of water supply. Thus, there is need to recover the dues, not just of 2014-15, but all previous years," said a top officer in the Local Bodies Department, adding that Rs 1,500 crore is due to be recovered from people as user charges and property tax.
It is estimated that Rs 8,085 crore is required to provide 100 per cent basic urban civic infrastructure of water supply, sewerage, restoration of roads, streetlights, solid waste management, etc. in all 165 towns of Punjab. With the Akali-BJP government looking to use urban rejuvenation as a major plank to propel the alliance to victory in the 2017 Assembly elections, the department is not just looking at the recently imposed cess on fuels and registration of property to earn money, but efforts are also being made to increase the recovery rate of user charges.
Anil Joshi, Local Bodies Minister, said, "We had undertaken an exercise to find the total number of households which have regular water supply connections, to ensure 100 per cent water metering. But this survey will have to be undertaken again. As cities in Punjab vie with each other to get the Smart City project, it becomes the responsibility of mayors of all municipal corporations to ensure 100 per cent recovery of user charges — a pre condition to get the funds for Smart City project."
The minister denied that any new taxes were being imposed on people. "But under the new metering policy, those households that are less than five marlas, will have to get the water meter installed. Earlier, they were exempt from paying any user charges, but we might fix a minimal charge of anything between Rs 20 and Rs 50 per household (less than five marla), as user charges. For all other houses, a service charge will be fixed and residents will have to pay user charges based on water used, and recorded in the water meters," he said.