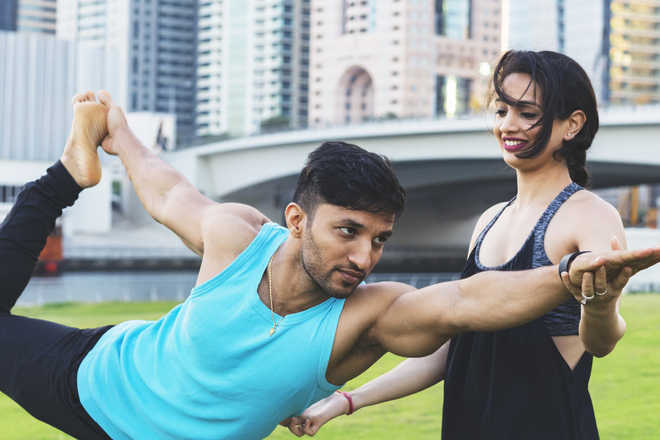 vermaajay1968@gmail.com
Mehak Arora
With the level of awareness regading wellness increasing substantially over the past few years,demand of professionals in fields like yoga have also gone up.
Yoga is big business in India as well as abroad. In 2019 the world yoga business has reached to $ 80 billion and in India, it is worth about Rs 8,000 crore. Yoga is the fourth fastest growing industry in the world. A recent survey says that India needs 3,00,000 yoga trainers in near future. Yoga is a lucrative and thriving business, one has to consider the elements related to it, training cost is minimal, the setup cost is economical, and moreover it can be done full time as well as part -time. Yoga can be collaborative with other wellness-oriented courses like massage, nutrition, aerobics making it more hybrid and versatile
For those wanting to make a career in this field a strong will to stick to their passion is a must. A yoga trainer should be creative, adaptive and determined.
How much one can earn
As it is now compulsory to have one yoga teacher in each school, so a number of opportunities are there for yoga teachers. The salary ranges from Rs 20,000-Rs 45,000 per month. Yoga teachers can also give private yoga classes that range from (Rs 4,500-Rs 8,000) per student per month. And a yoga studio can make you earn much more depending on the location and the clientele. Yoga seminars and workshops are another way of making money.
Internationally, it usually begins at about $45 per class (one hour session) and it gets increased by $5 annually up to a maximum of $75.
Courses in India
Courses which can done after Class XII (any stream)
Diploma in yoga (1 year)
Bachelor's in yoga (3 years)
BSc in yoga science (3 years)
Bachelor's in yoga and naturopathy (3 years)
Afrer graduation (any stream)
Master's in yoga (2 years)
Post graduate diploma in yoga (1 years +3 months practice)
Bachelor's of education in yoga (2 years)
After master's
MPhil and PhD
There are various certificate courses in yoga of 6 months to 1 year duration.
Famous yoga colleges and universities in India
Dev Sanskriti University, Haridwar, Uttrakhand
Gurukul Kangri Vishwavidhyalaya, haridwar, Uttrakhand
Bhartiya Vidhya Bhawan,Delhi
Iyenger Yoga Center, Pune
Bihar School of Yoga, Munger
Kaivalyadhama Yoga Institute, Pune
SVYASA Yoga University, Bangalore
Govt College of Yoga, Chandigarh
Teacher training courses
There are 200 and 500- hour yoga teacher training courses which are mostly residential. Many foreigners come to India to practice these courses.
Yogapreneurship
To be a successful yogapreneur, the art of marketing has to be mastered. Effective marketing is the only tool which would help to earn better in this career.
Don't underestimate the impact of social media which it can be make on the yoga sales, once you learn to use it effectively. Famous yoga trainers consider social media as the first powerful tool to market themselves or their yoga studio. FaceBook, Twitter, Whatsapp, YouTube, Instagram etc can help in bringing in more followers/students and build better networking.
Maintaining a website is another useful marketing tool. You can design by your own by analysing the websites of other yoga trainer or there are various external agencies available that can tailor a customised website for you.
Challenges
The biggest challenge for a yoga teacher is the income, that he earns from his profession .it's true that initially this career will not pay you as per you expectation but slowly and gradually an enthusiastic yoga teacher can reach the level where he can earn much more than his basic living expenses. Secondly the journey to a successful yoga career is not smooth, there would be many times where one would feel like quitting but if you would remain persistent to your passion you would definitely develop a thriving career. Teaching yoga should be not method of escape, rather it should be a way to enrich your life as well as the life of your students.
Don't sit back and wait something will going to be happen and at the same time no need to rush, nature doesn't hurry everything is accomplished .take a deep breath and now you are exactly where you are meant to be , get to work , start writing your goals , visualize the life you want to have as a yoga teacher.