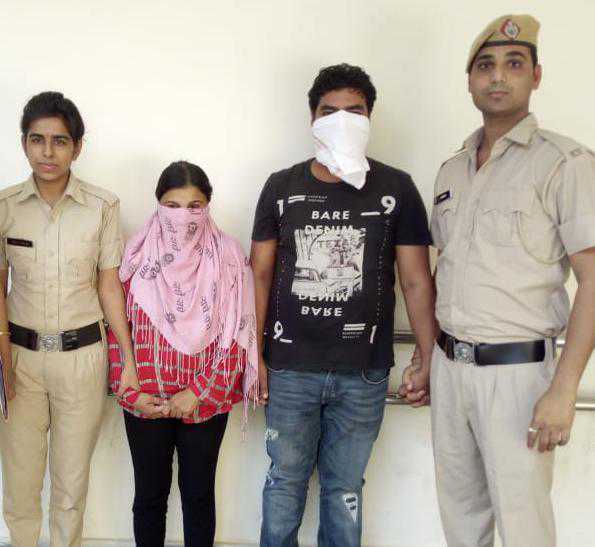 Sanjay Yadav
Gurugram, November 16
The Gurugram police have nabbed a 37-year-old woman hailing from Rajasthan and her accomplice for allegedly trapping a Ghata village resident and seeking Rs 50 lakh to withdraw a case of rape filed against him.
The police laid a trap after the woman was called to Sector 27 and then arrested her along with her accomplice while accepting Rs 50,000.
The money she took was also recovered by the police from her possession. The duo was produced in a city court and sent to judicial custody. The police are now looking for a local lawyer for his involvement in the case.
According to the complaint filed by a Ghata resident with the women police station, Sector 51, on Friday, the woman had got registered a case of rape and of molestation with her minor daughter against the complainant's cousin at the same police station.
"To withdraw the case, she demanded Rs 50 lakh and later came down to Rs 30 lakh. She told the accused that her lawyer had asked her not to settle the case in Rs 2 or 3 lakh. She along with her accomplice Ajay continued threatened my cousin over the phone. The deal was finalised for Rs 6 lakh and we called them to give Rs 50,000 in advance," the complaint told the police.
A police team led by inspector Garima laid a trap and asked the victim to call up the woman. He called the woman to a restaurant in Sector 27 promising to give Rs 50,000 cash. While she was taking the money, the police nabbed her along with her accomplice Ajay.
The police also shot a video of her taking the cash. The woman is a native of Alwar district in Rajasthan and Ajay is a resident of Ullahwas village, Gurugram.
"We gave signed notes to the victim to hand over to the woman. Those were recovered from her possession. She confessed to having demanded the money and told that her lawyer had asked her for it. We are verifying the role of the lawyer," said inspector Garima, the investigating officer and SHO of women police station, Sector 51.
An FIR was registered against the duo under Section 386 (extortion by putting a person in fear of death or grievous hurt) of the IPC.
Top Stories