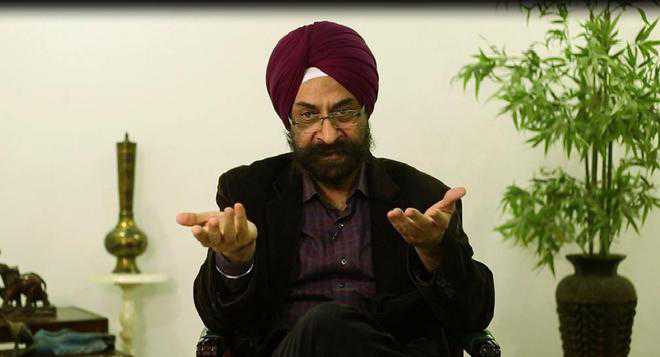 editorial@tribune.com
Manpriya Singh
As a practicing consultant psychiatrist for the past 25 years, there was one thing that deeply moved Dr Jagdeep Pal Singh Bhatia. It was a question he was constantly faced with while back home and often posed while anywhere else in the world.
Why Punjab? Why did the state particularly have to be so firmly in the grip of substance abuse? "Years and years of research and observations threw up a few unknown as also overlooked facts. Addiction is nothing but a bio-psycho social disease. Some people are genetically more predisposed and emotionally vulnerable to fall prey to drugs. Punjab has battled so much, right from Ahmed Shah Abdali to Jallianwala Bagh massacre to Partition to Operation Bluestar, that the youth are emotionally weak and genetically more vulnerable to drugs," he shares, before introducing us to his latest endeavour, Taala Te Kunjee, a documentary that profiles four drug addicts, in a bid to provide a solution to their problem.
Taala Te Kunjee
The 82-minute documentary (in Punjabi, Hindi and English) is based on the lives of four recovering addicts and captures the pain, trauma and destruction caused by addiction in the veins of Punjab, and focuses on the intricate aspects of recovery. Four recovering addicts at a rehabilitation centre in Punjab are helping families recover from the rampant drug problem in the state. While they struggle to establish new relationships with their pasts, their wives strive to redefine the meaning of love. Eventually there is hope and a solution.
What can we do?
Based out of the holy city of Amritsar, unfortunately, he got a ring side view of the drugs addicts, their families and the havoc it caused. Firstly, he'd like to start with the families. "I first like to protect the patient from the families. They either preach, insult or outcast them." That's what we all need to remember; it's a disease, not a social stigma. He adds, "In many cases, the patients aren't willing to come for the counseling. That's when I ask one of the family members to come."
Buck stops at us
If only the students right in class 7th, 8th or 9th itself were made aware of the consequences of battling drugs. How it's a pleasure for a little while and pain and punishment for a lifetime, a lot of the drugs problem could be curbed right away. "I hope we show the documentary to teenagers so that they are aware." He adds, "Let's not wait for the government or any political party to do something about it."
Documentary with a difference
Of course we have had endeavours like Udta Punjab, which profiled the issue of drugs in a sensitive and sensible manner. Four victims of substance abuse at several levels with intertwined lives. Then there is the unfortunate bracket of films that glorify drugs and goons, and political nexus that is invariably required for any organised crime to flourish. Of the countless years spent researching for the documentary, two were strictly spent making it. "It's completely based on facts and real-life cases; some of the severest cases on the verge of death."
manpriya@tribunemail.com
(The launching ceremony of the documentary is on January 18 at Punjab Naatshala, opposite Khalsa College, Amritsar, and simultaneously on the YouTube Chanel, The Hermitage, from 6 p.m. onwards)