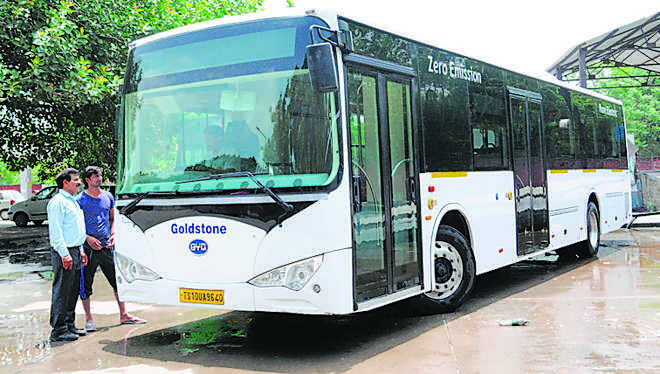 Kuldeep Chauhan
Tribune News Service
Shimla, October 22
The HTRC has decided to run 30 smaller 21-seater electric buses on the narrow roads of the city. The decision has been taken after The Tribune carried out a series on road accidents in the capital.
The HRTC has been operating 30-seater electric buses in the city.
The HRTC also took cognizance of the reports after an HRTC bus fell off the narrow Jhinjhiri PWD road that left two school girls and its driver dead and six others injured on July 1. The road was encroached by parked cars, an inquiry revealed.
Besides Khalini-Jhinjhiri road, there are 12 more narrow and congested routes on the suburbs of the city where schoolchildren and public travel by bus daily.
The HRTC has bought 30 smaller electric buses to run these on the narrow routes from the first week of November.
"Of the fleet of 30 buses, we have got approval to ply two buses after trial," said HK Gupta, CGM, HRTC. "These are 21-seater electric high-powered buses. We will operate these on the narrow routes," he added.
He said a 21-seater bus cost Rs 73 lakh. It had enough space and head room and could accommodate 40 passengers easily.
The narrow roads are Khalini-Jhinjhiri, BCS-New Shimla Sector 6 phase-III, BCS-Sector 4 phase-II, Bhatta Kufar- Sanjay Van, Summer Hill-MI Room road, Auckland tunnel-Bharari road leading to Koftadhar, Powabo, Kiar Koti and Kelti.
These roads are not wide and the transport authorities are operating buses on these routes daily, posing risk to the public, complain locals. The big buses create traffic jams, mainly in New Shimla.
Gupta said big buses would ply on the major roads and new buses would run on these narrow routes. The first two buses would be flagged off this week, he added.
Top Stories