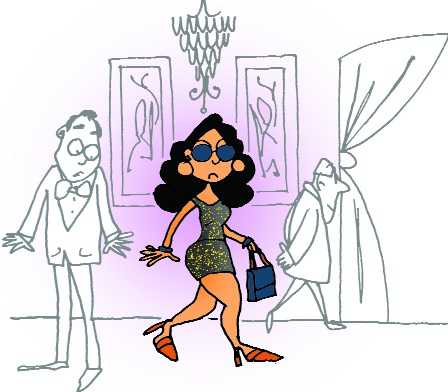 singhking99@yahoo.com
Aradhika Sharma
Dear Diary Didi,
I'm writing this saga of the hai heels as I sit with my feet soaked in 'phitakariwala' warm water.
See, dear hubby and I had been invited to an important black-tie corporate fundraiser where an auction of artwork was to take place. The head honchos of the business world were attending. I bought myself a wonderful little black dress, which was sexy yet formal, to wear to the function. But when I checked in my shoe closet to complete the ensemble, I couldn't find anything at all! The black Guccis were too plain. The high-heeled golden sandals were too flashy. The silver pumps were a disaster. The diamante' studded sling-back shoes could have worked if only they hadn't been blue in colour. The fuchsia wedges were too pink and the kitten heels on the red shoes just didn't look right. Naturally, I couldn't wear any of my juttis or flats or Roman sandals.
This must be what deprivation feels like.
So, off I went to the mall to try and find decent footwear. After trying out only 18 pairs in three shops I found this marvellous peep-toe, high-heeled, formal pair of scarlet shoes. They were too gorgeous to let go, so I bought them and swiped the credit card. The salesman was just packaging the beauties when, to interrupt my glorious euphoria, "hubby dearest" flashed on the phone screen. He was panting and incoherent. "Gosh! Are you having a heart attack or something?" I asked with concern.
"Did you just spend a small fortune in a shoe shop?" he yelled.
"I've bought a pair of shoes, if that's what you mean," I responded with quiet dignity.
"You've spent all that money on ONE pair?" he moaned.
Humph! I go through all this trouble for his office party and look how ungrateful he is! Anyway, on the evening of the party, I felt as fabulous as I looked. We reached the party venue and entered with big smiles on our faces, greeting, air kissing and waving to the people we knew. As I took a glass of white wine from the waiter passing by, my foot felt a twinge. I ignored it but my descent into hell had begun!
Just when I was shaking hands with hubby's CEO, the shoe vengefully pinched my toe, causing my face to screw up in a pained grimace. The CEO looked startled. I gritted my teeth and turned the grimace back into a determined smile. He moved away quickly.
Within half an hour, my feet felt as if they were on fire! I could feel the blisters welling up like little water-filled balloons. No amount of wine could disguise the pain. As I gazed longingly at the flat shoes the waiters were wearing, I rapidly started to learn what hate feels like. My back had now started aching, being perched on the scarlet torturer chambers.
Thank God the evening is over. Perhaps, I shouldn't have bought shoes that looked the best but a pair that fitted the best.
All readers are invited to post comments responsibly. Any messages with foul language or inciting hatred will be deleted. Comments with all capital letters will also be deleted. Readers are encouraged to flag the comments they feel are inappropriate. The views expressed in the Comments section are of the individuals writing the post. The Tribune does not endorse or support the views in these posts in any manner.
Top Stories