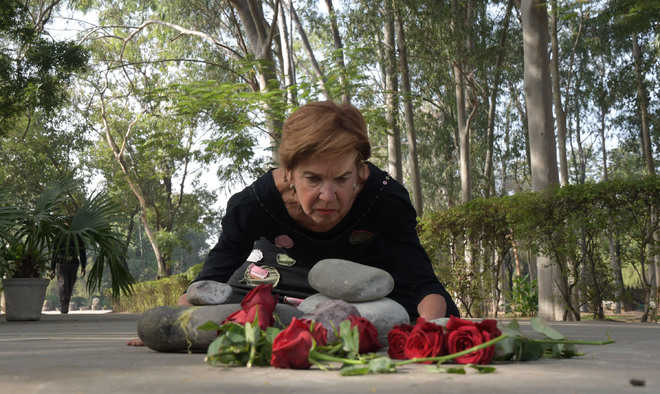 Amarjot Kaur
For over six weeks, artist Harpreet Singh has been hosting 25 artists from across the globe at his artist residency, Healing Hills Art Residency (HHAR), at Ladog village in Badisher valley of Morni Hills. The two-day performance art event, titled Mother Tongue, at the Government Museum and Art Gallery, Sector 10, is an upshot of the creative exchange that influenced the artists at the residency. Its curator is a Berlin-based artist, Alexa Wilson, and the event comprises not only stirring performance arts, but insightful talks and panel discussions as well.
Right to abort
The opening art performance by Agne Auzelyte, 26, and Shelley Etkin, 28, was a compelling take on abortion laws that has been a burning issue among feminists in Europe, especially Poland and Ireland. For more than two hours, Agne and Shelley dug their faces in pillows. Laying on their stomach the duo, called 'Vagittarius', sang, screamed, and shrilled.
If not at 70, then when?
Based in Ontario, 70-year-old Helene Lefebvre had undergone an open-heart surgery this year. Without uttering a syllable, she enacted a poignant improvisation of time and change, using only two elements: stones and roses. The dramatic interpretation of anguish, despair, and dejection saw Helene walking towards five stones and some nine red roses. Her gait was heavy, and she often tried to balance the weight of the stone on her back, behind her shoulders. She took a few roses, and offered them to her audience after opening one of them and smashing it on the stone until its crushed red petals rested around the stone. "I work on identity issues. This particular act is an abstract representation of time and changes in and around us. I took to performance art in 2005; before that, I was a painter, printmaker, and I also made installations," she shares.
Dancing to the sound of silence
For 29-year-old Katia Reshetnikova of Russia, the idea of dancing to the sound of silence or just about anything is utterly fascinating. With her earphones on, she pranced around the museum. At times, she would roll on the floor, on other occasions she would rest her head against the pillar and break into a gymnastic move. "I am a sound designer and I am experimenting with performity of sound, the perception of human body, and its movement in relation to space," she says. She often hands out another earphone to the visitors so they can hear the music too. "This is the recording of sound samples I collected during my stay at the residency," she adds.
Indian women by a Canadian woman
Caroline Kunzle, 43, is from Montreal. During her stay at the residency, she has been interviewing women in the vicinity and has developed a script around it. She plays the violin and is a radio show designer. With a passion for conducting interviews, Caroline has also been documenting oral history through verbatim theatre. "When I met the women here, it dawned upon me that Indian women have still not been able to break from the tradition of patriarchy. But that's just my perception," she signs off.
The event also included panel discussions and talks by Kosta Bogoievski and Antonia Barnett-Macintosh.
Top Stories