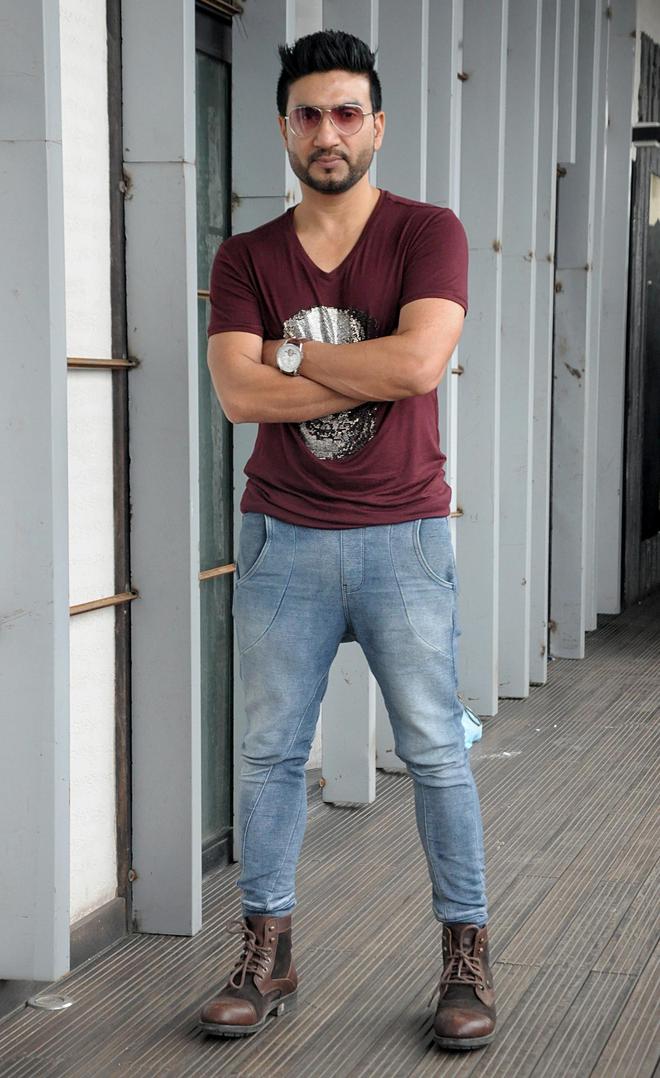 Manpriya Singh
Of the several things that an introduction and a movie title Myself Pendu conveys what we give a thumbs-up to is the proud association with one's roots. "It's a beautiful story with a great script of village youngsters and their journey," assures singer-turned-actor Preet Harpal, during the first look and poster launch of his upcoming movie Myself Pendu.
Never mind the poster starring a Punjabi munda standing atop an open jeep, there's promise of crisp dialogues, fair share of drama, romance and comedy. Seen in the movie will be Jaswinder Bhalla in a double role for the first time ever, while playing a Punjabi and a Haryanvi character. The directorial debut by Surinder Rihal also stars Jaspinder Cheema, Navraj Hans and Madhurima Tuli in guest appearances.
The film also stars Sayali Bhagat, Ather Habib and Satinder Satti, among others.
Memories of yore
The film promises to present the day-to-day village life of people and youngsters, through characters that the audience will readily relate to, something about his brush with roots. "I belong to a village near Gurdaspur. With father being in the Army we lived in big towns and it wasn't before Class II or III that I shifted to the village. I was shy as a child and very focused throughout."
Well, no memories of childhood can be absolute without a mention of music, which was just as much an integral part of life as it is now. "Kishore Kumar was one of my favourite artistes. I listened to his songs quite a lot followed by our own legendary Gurdas Maan."
Act two
As much as the audience has loved him, danced to his tunes, hummed his songs, requested for repeats, they have let a hum drum response come his way on the acting field. The big nod of approval is yet to come by from the box office. "Yes, that's true but it has a lot to do with the right script. It takes a great many things to fall in place, right from the production house, to script to budget for any actor's true potential to be explored. In whatever supporting role I had in Sirphire, I received a very encouraging feedback."
If there's anything that he'd really like to play, then it's the average Punjabi youth ruined by the state of affairs. "I want to do any role where I get to play a Punjabi youngster who's absolutely wrecked his life due to drugs. I want them to see and learn how they look once in the grip of drugs." Till that happens, there's fun loving Myself Pendu.
"You'll see that all the previous shortcomings have been taken care of in this film. For one-and-half years, I stayed away from doing any films or acting because I was waiting for the right script and you'll see that the wait has been worth it," and here's signing off with fingers crossed.
manpriy@tribunemail.com