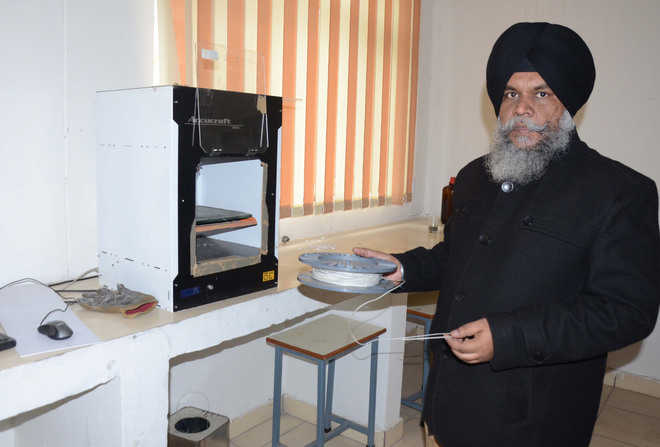 Gurvinder Singh
Tribune News Service
Ludhiana December 16
While 3D printing seems to be the future of manufacturing, a team of experts from the Production Engineering Department of Guru Nanak Dev Engineering College (GNDEC) has developed the 'feed stock filament', the raw material that is used for making 3D products through 3D printers, at a fraction of the cost of what is available in the market.
They have managed to create it with waste material, including discarded polybags, at just the cost of Rs200 for a spool.
Rupinder Singh, professor at the Production Engineering Department at the GNDEC, said such a spool, which is mostly imported from China, is available at Rs5,000 in the market. A similar spool from the US costs Rs22,000, he said.
And its cost down at this level would make it more viable to manufacture products using 3-D printing in India, he said.
Prof Arvind Dhingra from the GNDEC said the technique could widen the scope and viability of 3D printing in India. "In fact, more properties have been added to the spool. We have developed the filament by adding raw material from egg shells, which is 96%calcium. In fact our teeth are also 96%calcium. We have 3-D printed tooth caps, using the hydroxilapatite (HAP), which thus, will be much more easily accepted by the body because of a similar nature of the composition material. It will also be possible for body cells to grow on this material," said Dr Rupinder.
They have also added 'graphene' to the spool, to make it possible to conduct electricity through the material. "While on the surface it doesn't conduct electricity, but from the inside it can. These properties will be available for whatever is made from this spool," he said.
Top News
Suspense mounts as to who will be BJP's chief minister in an...
'Results serve lesson to Congress and opposition's INDIA blo...
Shivraj Chouhan in March launched Ladli Behna scheme, which ...
A fierce critic of BRS chief K Chandrasekhar Rao, Reddy, Tel...
Congress, which was hoping to buck the trend of incumbent be...