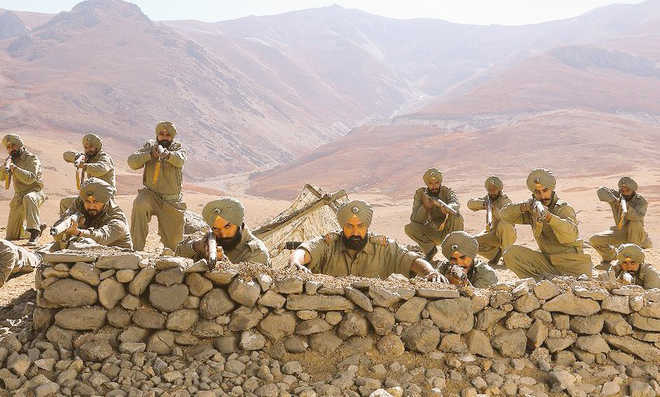 Jasmine Singh
For a very long time, Hindi film Border stood fort for being the best multi-starrer war movie which had just about every ingredient of a successful film. It wouldn't be wrong to say that Punjabi movie Subedar Joginder Singh stands to share the same status.
A biopic, based on the war hero Subedar Joginder Singh, the film draws you in from all angles, emotions on the war front and everything else—action, screenplay, dialogues, direction, art direction, cinematography, background score and acting... every frame is a complete in itself.
Produced by Sumeet Singh and directed by Simerjit Singh, the film is going to etch a place for itself in the history of Punjabi cinema. Despite the fact that Subedar Joginder Singh stars half a dozen of well-known Punjabi singer-actors, director Simerjit has only made each one look like a fauj da sipahi by stealing their real identities with such finesse that you totally forget that the artiste on screen has sung an XYZ hit song!
The director has also handled the tempo of the movie well, even though it oscillates between past and present, the connect is never broken. The film has some real inspiring fauji dialogues, something we haven't heard for a long time. You might want to cut out that wee bit of melodrama but even if you let it be, it doesn't irk.
The film has been shot in locations like Kargil, Drass, Rajasthan, which brings out the realness of the film. Punjabi films and comedy, it's like brother from another mother, and in this film, comedy does find a place and that too in a measured manner. Faujis are expected to humour themselves, aren't they?
Every single artiste in the film, right from Kulwinder Billa, Jaggi Singh, Jordan Sandhu, Harish Verma, Guggu Gill, Karamjit Anmol, Rajvir Jawanda, Roshan Prince, Sardar Sohi, Charan Singh and Nirmal Rishi have played their roles beautifully, but one actor who startles the audience with his acting and looks is Punjabi singer-actor Gippy Grewal. The actor had to gain and lose weight for his role, which he has done commendably.
In fact, the entire time one watches Gippy on screen, you tend to forget he is a singer, you only see him as Subedar Joginder Singh and this is the face that you take back from this war film, a brave soldier who kept fighting till the end. After Ardaas, Subedar Joginder Singh is one of Gippy's finest roles.
Aditi Sharma of the Angrej fame has totally nailed her short and admirable role. This is definitely one face that you'd like to see in Punjabi films again and again.
The music of the film is soothing and inspiring. A pat for the VFX section as well, since Punjabi cinema is not totally into this part, this wasn't a bad try. Subedar Joginder Singh is a film that will leave a mark on your mind and heart, and the same holds true for Gippy Grewal as well.
Top News
Counting of votes to commence at 8 am amid tight security
193 Palestinians have been killed in Gaza since truce ended ...
Pakistan on November 24 beat India in an election to UNESCO ...
Votes cast in the Chhattisgarh, Madhya Pradesh, Rajasthan an...
Sarvjeet Sidhu, pleaded guilty to attempted murder, while Su...