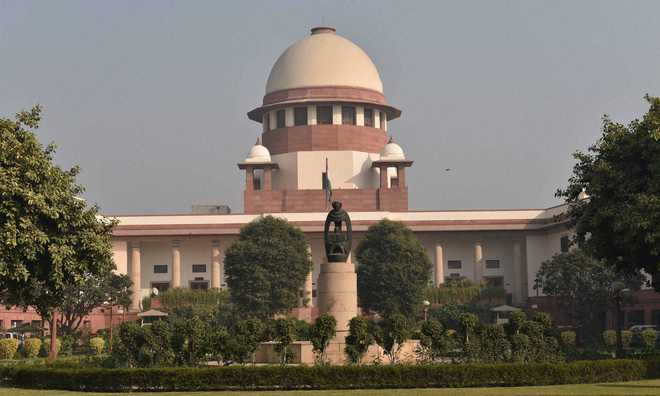 Satya Prakash
Tribune News Service
New Delhi, July 19

The Supreme Court on Wednesday said if it were to declare right to privacy a fundamental right, the ruling would impact curative petitions seeking to de-criminalise homosexuality in India.
A nine-Judge Constitution Bench headed by Chief Justice of India JS Khehar — which is reviewing the top court's earlier verdicts that said citizens didn't have a fundamental right to privacy under the Constitution — posed questions about possible outcomes, if right to privacy was declared a fundamental right.
(Follow The Tribune on Facebook; and Twitter @thetribunechd)
The Bench — which wanted to be clear about the contours of right to privacy — said such a right can't be absolute and the state could make laws to restrict it.
"Marriage, procreation are facets of privacy… sexual orientation is also about privacy. If we say there is a fundamental right to privacy, our judgment in Naz Foundation becomes vulnerable," said Justice DY Chandrachud, who is part of the Nine-Judge Constitution Bench.
"If privacy is about right to make a choice; then choice in what areas...family, sexual orientation, gender identity, surveillance, what all? If yes (i.e. if right to privacy is a fundamental right), then Naz Foundation falls," Justice Chandrachud said.
Naz Foundation, an NGO working for homosexuals, had challenged the constitutional validity of Section 377 of the Indian Penal Code (IPC) that criminalises homosexual acts and prescribes a maximum punishment of 10-year imprisonment.
In July 2009, the Delhi High Court had legalised homosexual acts between consenting adults in private by reading down Section 377 IPC. However, in December, 2013, the Supreme Court reversed the 2009 verdict of the Delhi High Court and re-criminalised gay sex.
In January 2014, the top court dismissed the Centre's petition seeking review of its verdict that made gay sex an offence again. Currently, the Supreme Court is seized of a curative petition —the last legal recourse available to a litigant — on the issue.
Besides the homosexuality case, the verdict of the nine-Judge Constitution Bench will also impact the outcome of the petitions challenging WhatsApp's policy on sharing of users' data with other companies — an issue pending before a five-Judge Constitution Bench.
A three-Judge Bench would separately decide the fate of petitions challenging the law on Aadhaar on the basis of the verdict of the Nine-Judge Bench on right to privacy.
Justice Chandrachud also posed questions on data protection in the age of social media, saying social media wasn't there when the Constitution was made.
Earlier, on behalf of petitioners senior counsel Gopal Subramanium, Soli Sorabji, Shyam Divan and Arvind Datar pitched for declaring right to privacy a fundamental right, saying it was implicit in various provisions in Part-III of the Constitution that deals with fundamental rights.
They said rather than being a part of personal liberty, right to privacy was liberty itself. Instead of defining it, the court could say what all was covered under it. However, they said there need not be an exhaustive list of areas covered under right to privacy.
Agreeing with the proposition, Justice Chandrachud said it will be "extraordinarily dangerous" to give an exhaustive catalogue of what constituted privacy.
Datar said, "In 1917, it's appalling and anachronistic for a democratic country like India to say that right to privacy is not a fundamental right".
Former Attorney General Soli Sorabjee sought to demolish the theory that since right to privacy was not mentioned in the Constitution so it's not a fundamental right. Terming it a fallacious argument, Sorabjee said, "Even freedom of press is not mentioned in the Constitution. But that doesn't mean it's not a fundamental right."
An eight-Judge Constitution Bench had in MP Sharma's case in 1954 ruled that citizens didn't have a fundamental right to privacy. The ruling was followed by a six-Judge Bench in Kharak Singh's case in 1962. There was a huge uproar in July 2015 when then Attorney General Mukul Rohatgi — based on these two verdicts — said the Constitution didn't give any fundamental right to privacy to citizens.
On Tuesday, Rohatgi's successor KK Venugopal had said: "Our founding fathers have encompassed all rights. But consciously this (right to privacy) is omitted".
Venugopal is expected to spell out the government's stand on the issue on Thursday.