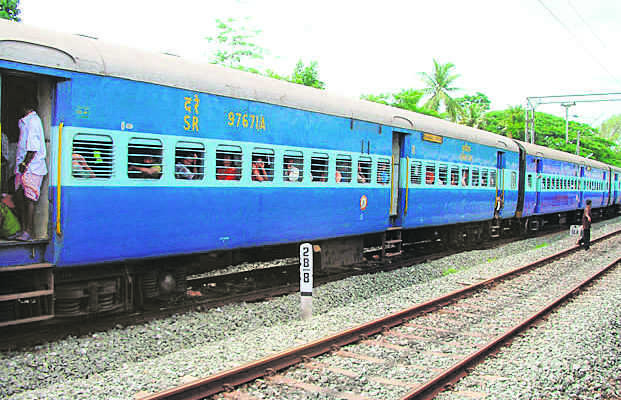 Sandeep Dikshit
Tribune News Service
New Delhi, July 29
India, for now, has the edge in the battle for railway gauges with China in Nepal. India is building railway lines from the south of Nepal in broad gauge, while China wants to introduce a line from the north that will operate on the narrower standard gauge.
Had China succeeded in building the railway line into Nepal before India, its smaller gauge would have ultimately come to the India-Nepal border. This would have shut out all future chances of connecting India and Nepal with the Indian Railways' broad gauge (1,676 mm or 5 feet 6 inches).
This is perhaps the first time that two countries — India and China — are attempting to introduce their respective gauges in a third country. Elsewhere, carriages are lifted on the border between two countries if the gauges are different. Then a different undercarriage with a different wheel arrangement is slipped under them.
Such an arrangement would have been anathema to India and a knock on its national pride had the narrower Chinese line reached the Indo-Nepal border.
Sources say India has decided to accelerate five railway links into Nepal — Panitanki-Kakarbitta, Jogbani-Biratnagar, Birgunj-Raxaul, Sunauli-Bhairwa and Rupaidiah-Kohalpur. More important, it has green lighted an electrified railway track that will be further extended from Raxaul to Kathmandu.
Though a Nepal minister caused a flutter recently by declaring that the Chinese gauge would be used nationwide, ground conditions indicate that India may be successful in extending its broad gauge to Kathmandu, thus paving the way for the introduction of its rolling stock – both coaches and locomotives – as well.
Experts admit that the narrower Chinese gauge is more suited for hilly terrain. The topography, however, will not be an impediment to India-built tracks as for the most part they will not run on undulating terrain.
China, however, has a double problem. The first is its railway line from Tibet will traverse through one of the world's toughest terrain which means it will be time consuming to construct. China has already pushed back the timeline for extending the existing line from Shigatse in Tibet to Kerung on the Chinese side of the Sino-Nepal border. The second is the cost of constructing the line from Kerung to Kathmandu, currently estimated at around $6 billion.
Sources said there is no indication yet about the new deadline for extending the Chinese line into Nepal, leave alone the costs which Kathmandu would like the Chinese to foot.
On the other hand, India is ready to bear the cost of the considerably less expensive Raxaul-Kathmandu line, thus ensuring that the Sino-India geopolitical competition for railway gauges will not end in Chinese suzerainty. For Nepal, this will be a win-win situation since India will no longer be fixated with the Chinese project but concentrate on pushing its own plans.