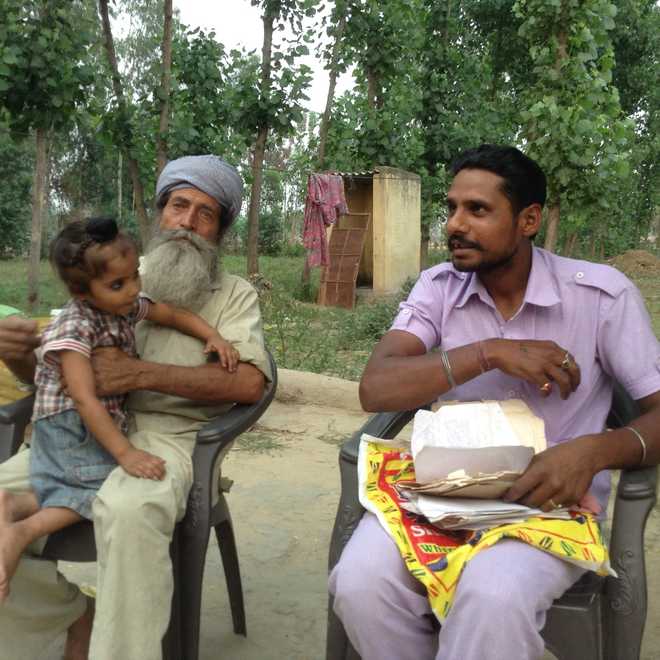 Shahira Naim
Now 27, Jagrup Singh was five when his father, TADA prisoner Sarvjit Singh, was beaten to death inside the Pilibhit district jail and uncle Trilok Singh virtually debilitated.
Growing up on the horror stories of that fateful day, Jagrup's only mission in life is justice for his family.
Their land in Jagat Kundro village under Amaria police station went under water in a subsequent flood, rendering the family landless. He now earns a living driving a truck for a transporter in Sitarganj in Uttarakhand.
After reading a news item in a local paper last month about the jail staff of Pilibhit district jail going scot-free after beating to death his father and six other prisoners, he wrote a letter to the head of the Shiromani Gurdwara Committee of the historic Nanak Mata Sahib near Sitarganj in Uttarakhand, asking to ensure the reopening of the murder cases against the Pilibhit jail staff.
He also asked the gurdwara management to press for compensation for the families of the victims and jobs for their children.
Showing a copy of the letter, Jagrup brings out stacks of sepia-coloured papers relating to the case. He has preserved every bit of paper related to the case at his rented house in Bara Dunwa village, not far from his village.
A father of two, Jagrup regrets that his mother Jasbir Kaur died three months ago before she could see him getting the guilty punished.
The family lives with his maternal aunt while he works in Sitarganj. Tarsem Singh, brother of the maternal aunt's husband, had brought his father's body from the Pilibhit hospital in his tractor in 1994.
"The sole of his feet had been reduced to pulp. The nails had been pulled out. The police did not let us call anyone for the last rites and insisted on disposing of the body quickly," he recalls.
Jagrup's uncle Trilok Singh, who survived the beating, cannot walk without support. After being released from Pilibhit jail in 1997, he shifted to Rasul Kalan village under Jandiala police station in Amritsar. Speaking to this reporter from Amritsar, he said that fateful night inside the jail ruined his life. "I have rods inside my leg; I am in pain most of the time and can barely walk with a stick."
He lives with his brother Lakhwinder Singh, who retired from the Border Security Force.
Similarly, there was another set of brothers incarcerated under TADA from Saddarpur village under Amaria police station. Jeet Singh was killed inside the jail while his younger brother Harbhajan Singh was brutally beaten up and moved to Amritsar after he left the prison.
The wife and family of the third brother, Gurmej Singh, now live in the family house and look after a 10-acre farm.
"Our whole family split up after that incident," reminisces Sukhwant Kaur. She recalls that Jeet had been married for barely four years. After his death, his widow remarried when Harbhajan did not marry her.
Too bitter by the experience, Harbhajan sold off his share of the family property and moved to Punjab. Sukhwant Kaur says that he neither keeps in touch with the family, nor has anything to do with Pilibhit.
"Pained by all this, my husband died of a heart attack eight years ago. Since then, I and my children are fending for ourselves".
Recalling the horror of those days Sukhwant says that one lived in constant dread.
"So-called terrorists from Punjab hid in the fields and forests out here and demanded food from us. If we obliged, the police would get us and if we refused, they gave us hell."
In her family's case, some alleged terrorists were hiding in their fields and caught hold of her brothers-in-law when they had gone to water the fields. "We were forced to feed them and they went away. After some time, SHO of Amaria police station Rajinder Singh and SI Harpal Singh came in a jeep and started questioning us about that incident. My brothers-in-law refused having sheltered any terrorist. Just then this man came out of the police jeep and reminded them of the food that they had provided. The police immediately arrested and took away both my brothers-in-law," recalls Sukhwant Kaur.
Incidentally, the SO and SI who had visited her house to pick her brothers-in-law are among the policemen sentenced to life imprisonment by a CBI special court for carrying out fake encounters in 1991 in Pilibhit.
Jail staff chargesheeted
Vindhyachal Singh Yadav (Jail Supdt)
Shahjehan Hussain Jafri (Jailor)
Ram Kishore Tripathi
Munna Lal Dwivedi
Liaqat Ali
Bharat Singh Chaudhury
Rajendra Prasad Dikshit
Hem Chand
Girija Shankar
Harpal Singh
Hardwari Lal
Chote Lal
Janki Prasad Gangwar
Rameshwar Dayal 1
Bhagwan Das
Yashwant Singh
Mohammad Sulaiman
Mohan Lal
Ram Swaroop
Rameshwar Dayal 2
Rampal
Anil Kumar Singh
Rampal Singh
Parmanand
Ram Bahadur
Hira Singh
Shanti Swarup
Mewa Ram
Krishan Pal
Sukhlal
Janki Prasad
Lal Bahadur
Jagat Narayan
Kallu Singh
Nokhey Singh
Bharatji
Gangaram
Shyam Singh
Malkhan Singh
Devi Singh
Khempal Singh
Anokh Singh
Top News
Suicide bomber blows himself up in mosque packed with worshi...
AIADMK leads demand for passage of Women's Reservation Bill ...
The bench takes note of the submissions by lawyer ML Sharma ...
VB sleuths started assessment of Soni's farmhouse at D R Enc...
Hindenburg stands by its last week's report that said its in...