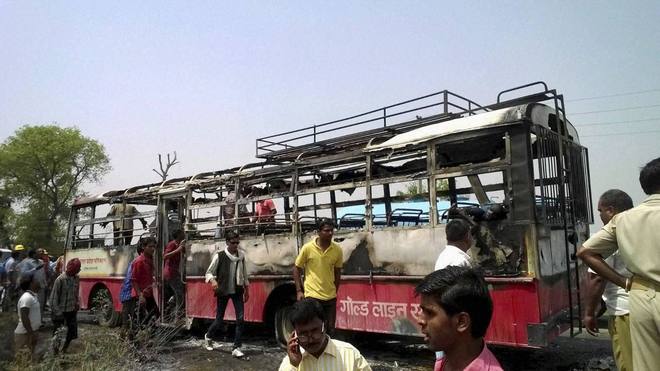 Tribune News Service
Lucknow, April 21
Nine persons were charred to death when an Allahabad-bound Uttar Pradesh Roadways bus caught fire near Peeparpur Sansaripur in Amethi. Only one body has been identified so far.
Eyewitnesses said they saw a ball of fire on the road and by the time the bus carrying 42 passengers from Faizabad could stop, most of them had suffered extensive burn injuries.
All passengers had been taken to the district hospital. Chief Minister Akhilesh Yadav has announced a compensation of Rs 5 lakh for the next of kin of the deceased and Rs 50,000 each for the other passengers who have suffered burn injuries.
He has also promised free medical treatment for the remaining passengers who have suffered burn injuries of varying degrees.
While investigation into the cause of the accident is still on, preliminary reports suggest some passengers were carrying a small LPG cylinder which reportedly caught fire.
Local MP and Congress Vice-President Rahul Gandhi expressed profound grief over the incident and directed party workers to provide all possible help to the injured, his representative Chandrakant Dubey said. He said Gandhi, who was preoccupied with Parliament session at present, might come here to meet the injured.
(With PTI inputs)
Top News
Former PPCC chief says he would visit Sidhu Moosewala's hous...
PM Tshering said he had said 'nothing new' as Bhutan media b...
He was addressing a gathering at Rani Kamalapati railway sta...
Bhagwant Mann says it is the eighth toll plaza shut down by ...
The Bench laments overcrowding of jails and appalling living...