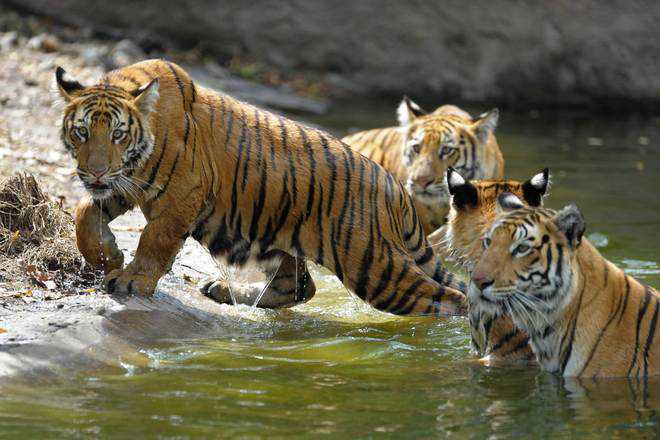 Shiv Kumar
Tribune News Service
Mumbai, May 30
Thirty-six tigers and leopards have lost their lives to poachers' snares across the country so far this year, according to data available with the Maharashtra Forest Department.
In Maharashtra alone at least seven tigers have died after being trapped in snares laid within wildlife sanctuaries, according to forest department officials.
The number of tigers left injured or maimed by these snares is much higher, said officials.
The crude wire snares are often fashioned from clutch wires removed from old two-wheelers.
The latest such incident was reported earlier this week. Wildlife activists touring the Tipeshwar Sanctuary reported a two-year-old male tiger cub limping from what appeared to be injuries from a nylon wire snare.
"We have received information about a tiger cub being injured from a snare. The forest department has sought the help of experts to capture the tiger and remove the snare from its paw," Divisional Forest Officer Pramod Panchbhai said.
According to Panchbai, the radio-collared tiger cub's right front paw got trapped in a nylon wire snare a week ago. The cub is officially called 'C3' and has been nicknamed 'Jack' by forest guides.
Forest department officials say these snares are laid by local villagers and tribals to trap small animals like hares and deer.
However, tigers often fall prey to these traps which result in them getting killed or maimed.
According to officials, the poachers aren't often "big game hunters" since the tigers are often not found in a mutilated state and their body parts are found intact.
In fact, snares laid by local villagers are increasingly becoming a menace in Maharashtra's wildlife sanctuaries.
One cub tigress at the Tadoba-Andhari reserve was killed last month after her neck was trapped in a wire snare laid in the middle of the sanctuary.
In March, a wildlife photographer snapped a tiger with a snare wound on its neck. The big cat has since not been spotted and forest department officials fear the worst.
Sudhir Mungantiwar, Minister for Forests, last month said the government would take strict action against anyone laying wire snares in the forest areas.
According to information released by the Wildlife Protection Society of India, 22 tigers and 109 leopards choked to death in India from wire snares between 2010 and 2018.
Apart from Maharashtra, the death of big cats due to snares has been reported from Uttarakhand and Madhya Pradesh.
Top News
Hundreds are still believed to be trapped under rubble, and ...
Chances of Parliament taking up a discussion on Motion of Th...
A Muslim man alleged he was assaulted and abused in the name...
Frank Hoogerbeets describes himself one having 'utmost respe...
Will be produced before the competent court in Mohali on Tue...