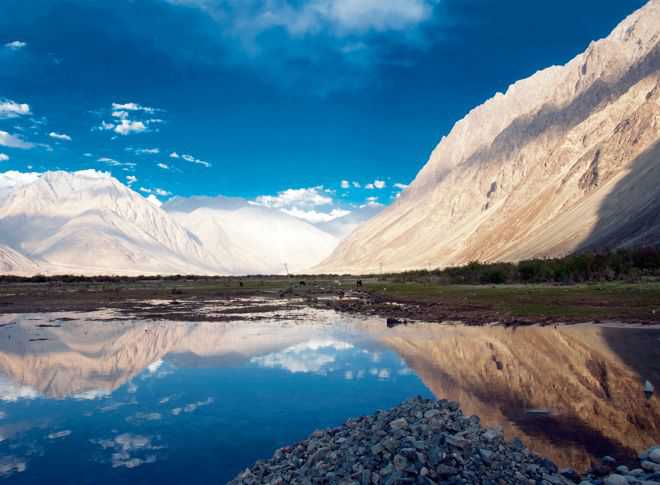 Sanjay Nahar
Sanjay Nahar
Founder-President, Sarhad
Neglect of archaeological sites is a pan-India phenomenon. Jammu, Kashmir and Ladakh — regions rich with such sites — are more neglected than the rest of the country by the authorities. Assuming the possibility of a rush to buy land in these regions after the scrapping of Articles 370 and 35-A, these treasure troves face the danger of further neglect and damage.
The Valley and Ladakh possess scattered remains of prehistoric dwellings, artefacts and burial sites, along with post-Buddhist monuments. However, the Archaeological Survey of India (ASI) has not conducted proper surveys and excavations. As a result, we have been deprived of knowledge about ancient routes and religious and socio-political concepts of the pre-historic man and marvels of the historic period.
This region is archeologically important not only for the ancient history of the Kashmiris but also because it has been an important link of India with countries in the northern, eastern and western regions since ancient times. Any damage to the scattered unexcavated sites is a huge loss to our cultural history.
In Ladakh's Nubra valley, a pre-historic camping site used by hunter-gatherers was discovered. However, no detailed research was undertaken, though it was one of the oldest seasonal settlements of early humans and the study could have thrown light on the life of the early man and his origins. Unlike in Haryana's Rakhigarhi, no genetic examination was attempted. Many post-Buddhist sites in the Valley belonging to the first millennium have almost vanished. Over 50 archaeological sites across the Valley are in a dilapidated state as they were abandoned by the ASI around 29 years ago. A number of unexplored sites and those which have not yet been identified, in the absence of a thorough survey, may remain buried and are likely to be demolished due to rapid urbanisation and the wrath of nature.
In the late 19th century, a British scholar, Sir Marc Aurel Stein, had tried to locate many towns as also Hindu, Jain and Buddhist shrines based on information provided by Kalhana in his famous Rajtarangini. He succeeded to some extent. He had located Parihaspore, the capital city built by the great emperor of Kashmir, Lalitaditya, and saved it from further damage caused by human interference.
Many sites described by Chinese traveller Xuanzang of the seventh century are difficult to locate as no serious efforts have been made to undertake research.
Kundalban, a place where the famous Fourth Buddhist Council was held during Emperor Kanishka's reign (75-150 AD), is yet to be located. Interestingly, the late Muhammad Amin Mehjoor, son of poet Mehjoor, had claimed to have located Kundalban somewhere near Dalvan village within the Charar-i-Sharief constituency, where many Buddhist terracotta idols and earthenware had accidentally surfaced after a landslide. Presenting ancient artifacts as proof, Amin had claimed that a missing link in the history of Kashmir had been traced. Irrespective of these claims, it is obvious that the village had historical importance as many ancient artifacts and idols surfaced following the landslide. However, the ASI did not explore the site further.
The archaeological history of Kashmir, which could corroborate the written records and throw light on the pre-historic era to enable us to understand our past better, is likely to get lost due to the negligence of the ASI.
The ASI is expected to undertake surveys and excavations to bring to light the rich heritage and legacy of Kashmir. But due to several reasons, it has failed to do so. The headquarters of the ASI has been shifted to Jammu and no major excavation has been undertaken by it in the past 20 years. Some 5,000-year-old ancient sites of pit-dwellers, including Burzahom and Rangil, have been left partially excavated. As a result, they are getting damaged rapidly. No new site has come to light due to lack of any systematic survey.
Similarly, many funeral sites of the Iron Age are in a state of neglect in Ladakh. Many more are yet to
be discovered.
The ancient history of the cold desert is important as the early human movement in this region can connect us to the early era that finally became a hub between Central Asia and China through the trade routes.
Lalitaditya had annexed Ladakh to Kashmir after subjugating Baltistan and Gilgit to control the trade routes. Buddhism in Tibet and China was spread through such learned Kashmiri monks as Sanghabhuti, Kumarjeev and Ratnachinta. In the 19th century, it was claimed by Russian traveller Nicolas Notovitch that a manuscript was found in a monastery that described Jesus Christ's visit to Kashmir and Tibet.
Based on this claim, in 1894, Jain scholar Virchand Gandhi had published a book, Unknown Life of Jesus Christ, which became an instant hit. However, no serious attempts were made to verify this claim.
The Karkota dynasty fought many wars with Tibet, known to the then Kashmiris as Bahutta. But there are no written documents, except bits and pieces of information available in the court records of Tibetan kings, which could reveal the manoeuvre of the troops from both sides. Ladakh's history and its ancient culture remain shrouded in mystery, awaiting detailed research.
Remains of historic importance are present in abundance across the Valley, as also in Jammu and Ladakh. Serious research work needs to be undertaken on them.
Since Articles 370 and 35-A have been abrogated, real estate deals would speed up. Investors are being invited to start cement factories in Kargil, which is rich in limestone deposits. Areas with rich granite deposits may also lure investors. This move disregards a possible damage to the buried, unexplored archaeological treasures and the fragile ecology of the regions. It may deprive the Kashmiris and Ladakhis of their history forever.
Thus, it is pertinent that land is not transferred till a serious archaeological survey is conducted to ensure that possible sites are preserved. No land transaction in Kashmir, Jammu and Ladakh should be allowed without clearance from the ASI. The Central government should provide adequate finance to the ASI to carry out this activity and an independent body of expert civilians should supervise the activity to avoid any possible damage.