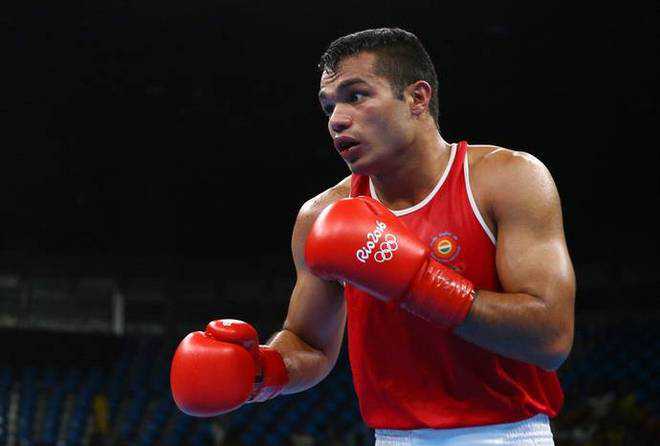 Vinayak Padmadeo
Tribune News Service
New Delhi, March 21
Vikas Krishan Yadav, only 26 years old, has taken over the role of mentor for the youngsters in the Indian boxing contingent. Naman Tanwar, Mohammad Hussamuddin and Manish Kaushik are among the newcomers who will represent India at the 2018 Commonwealth Games, which get underway on April 4.
Coincidentally, the Gold Coast event will also be Yadav's maiden CWG competition. He missed the 2014 event held in Glasgow after he suffered a cut before the trials. Also, he has had to play the understudy to Vijender Singh, the Beijing Olympics bronze medallist, in many competitions. It was only after Vijender turned professional in 2013 that the Hisar boxer could make the middleweight (75kg) boxing category his own.
But now that he has become the main man in the boxing squad, the 2010 Asian Games gold medallist is feeling the heat. "I have gone into many tournaments with Akhil Kumar and Vijender Singh, the seniors in the squad," Yadav said before leaving for Australia for an acclimatisation camp. "Since those two were the seniors, we used to think that we will be OK even if we lose as the focus will be on them."
"But now that I am the senior-most, there is added pressure on me to win, otherwise the juniors may lose heart," he added. "For them, like it was for me, seniors dong well acts as a motivational factor. The idea is to do well so that these young guys can learn from us."
Draw luck
Yadav is hoping that the luck of the draw would go his way. "I hope that I get an easy bout in the first round. If that goes our way, things will become easier," he said.
Overall, the Arjuna Award-winner doesn't see much threat, for himself and his team, at the CWG. "We have prepared well and I don't think there will be tough competition," he said. "Of course a few of the boxers can surprise you every now and then. Take England, which invented boxing — their boxers are good. Boxers from Canada, and also Australia, backed by home support, can test us. But overall, I don't think others can give us a scare."
Form factor
Yadav goes into the CWG high on confidence — last month, he won gold at the Strandja Memorial Tournament in Sofia, where he was adjudged the best boxer. The 26-year-old defeated 2017 World Championships bronze medallist Troy Isley of the US in the gold medal bout.
"Normally I don't take such competitions seriously, but this time I did take it seriously as I did not wish to get demoralised ahead of the CWG," Yadav said. "I beat Isley, and so I'm confident of a good show at Gold Coast."
Top News
AICC observers dub 92 MLAs' meet as 'indiscipline' | Sonia m...
Says R'sthan crisis all about dynastic politics
Won't make Article 370 a poll issue, he says