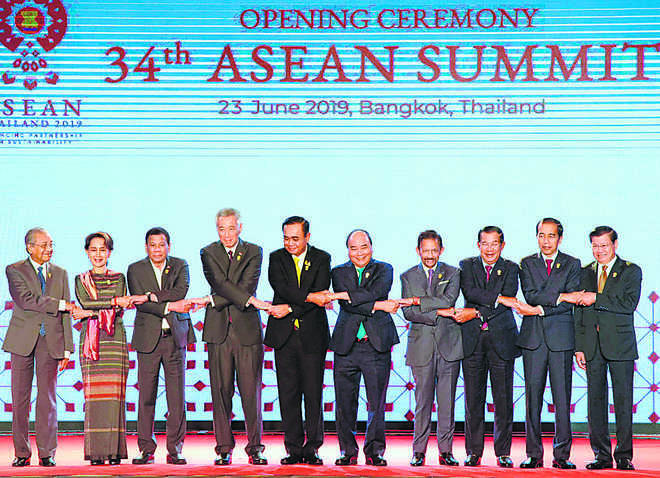 Bangkok, June 23
Southeast Asian leaders agreed on Sunday to work together on regional economy and security to strengthen their position amid growing US-China tensions, as they wrapped up their summit in Bangkok.
The 10-member Association of Southeast Asian Nations (ASEAN) will need its collective economic strength for bargaining power globally, especially amid the trade tensions between the world's top two economies, Thai Prime Minister Prayuth Chan-ocha told a news conference, as chairman of the 34th ASEAN Summit.
Prayuth urged ASEAN nations to complete negotiations this year for the China-initiated Regional Comprehensive Economic Partnership (RCEP) pact that includes 16 countries but has been held up by disputes between China and India over access to markets and protected lists of goods.
Negotiations began in 2012 on RCEP, which envisages the creation of a free trade zone encompassing 45% of the world's population and more than a third of its GDP, but does not involve the United States.
"This will help ASEAN handle the changes and uncertainty that will happen in the region going forward, particularly the impacts of trade tension between ASEAN's important trade partners," Prayuth said.
First proposed by China, RCEP's 16 signatories comprise the 10 ASEAN member states and six Asia-Pacific countries, including major economies China, India, Japan and South Korea. ASEAN has existing free-trade agreements with all six countries.
"If we can do this, we will have the bargaining power and base for negotiation. Because when combined, we are 650 million people, the largest regional bloc in the world," the Thai prime minister said.
Singaporean Prime Minister Lee Hsien Loong told reporters that ASEAN "must expect some fallout" from the U.S.-China trade war, pointing to Singapore's already slowing economy this year.
Four ASEAN countries-Thailand, Indonesia, Singapore and Vietnam-will discuss the trade war in next week's G20 summit, which assembles 20 major economies, in Tokyo, Prayuth said. Thailand will host the next ASEAN summit in November.
ASEAN members also agreed on a common approach on a US-led Indo-Pacific initiative on Sunday, at a time when US-China tensions are rising and forcing ASEAN countries to take sides.
Prayuth hailed the bloc's agreement on the ASEAN Outlook on the Indo-Pacific as a "significant step," as it will help guide cooperation in the region in an increasingly polarised geopolitical landscape. — Reuters
Top News
Education dept issues the dismissal orders following approva...
Drilling complete; last section of the escape pipe being pus...
Sikhs of America says gurdwaras are places of worship and sh...
Dhankar described Gandhi as the 'mahapurush' of the last cen...
An apex court bench says there is nothing serious in his hea...