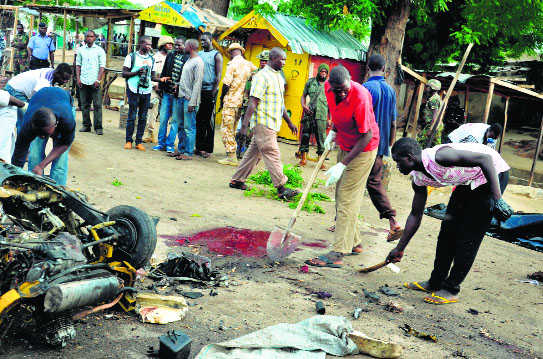 Kano (Nigeria), July 31
A female suicide bomber and Boko Haram gunmen killed 16 persons in Nigeria as the commander of a new multinational force tasked with fighting the Islamists pledged today to crush the insurgency "very soon".
Major General Iliya Abbah's appointment in an Abuja ceremony as chief of the 8,700-strong force came as a woman bomber on a tricycle killed six persons in a busy market in Maiduguri, the largest city in Nigeria's restive northeastern Borno state.
The jihadists also struck neighbouring Yobe state, killing at least 10 people including two women on Wednesday evening in a revenge attack against local vigilantes, a local official said.
The suicide attack was the latest in a wave of Boko Haram bombings -- often by female bombers -- targeting markets in Nigeria, Chad and Cameroon that have killed and wounded scores in the past month. Boko Haram has kidnapped thousands of civilians, including women and children, with many either forced or indoctrinating into joining the extremists, official say.
"The attack (on the Gamboru) market happened around 6:30 am (local time) as the grocers were arriving," said Babakura Kolo, a vigilante in Maiduguri. — AFP