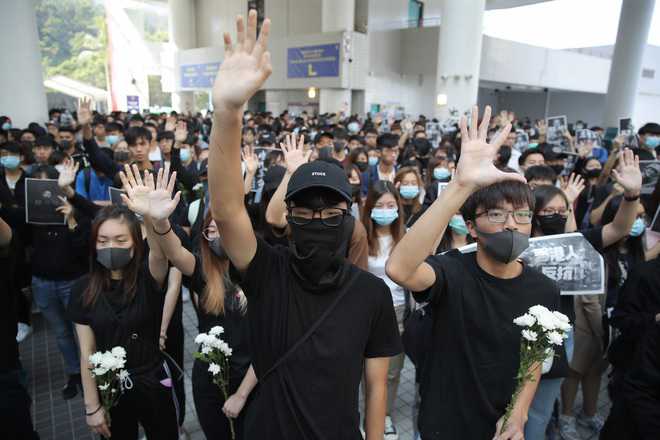 Hong Kong, November 8
A Hong Kong university student who fell off a parking garage after police fired tear gas during clashes with anti-government protesters died Friday in a rare fatality after five months of unrest, fueling more outrage against authorities in the semi-autonomous Chinese territory.
The hospital authority said the 22-year-old died Friday morning, but didn't provide further details. The government expressed "great sorrow and regret" over Chow Tsz-Lok's death and police said they would propose a public inquest. Some 1,000 masked protesters marched through the busy central district at lunchtime, chanting 'Disband the police force', 'Hong Kong people, revenge' and 'A blood debt must be paid in blood'. Some carried white flowers and placards that read 'Hong Kong is a police state'.
Protesters demanded justice for Chow and hurled abuses at several police officials on site, calling them "murderers." The cause of his fall has not been determined.
Police official Suzette Foo later Friday repeatedly denied claims that officers pushed the victim down and had delayed emergency services.
Prominent activist Joshua Wong said Chow's death made protesters' demands for an investigation into police conduct even more crucial. Wong was charged in August with organising an illegal rally.
The president of the University of Science and Technology, where Chow studies, dabbed away tears as he announced Chow's "tragic" death during a graduation ceremony, with the audience standing to observe a moment of silence. The ceremony was cut short, and black-clad masked students turned the stage into a memorial for Chow.
In Beijing, Chinese Foreign Ministry spokesman Geng Shuang declined to comment on Chow's death.
The protests were sparked by a now-shelved extradition bill to mainland China that many see as Beijing's creeping interference on legal and other rights guaranteed to Hong Kong when the former British colony returned under Chinese rule in 1997. — AP