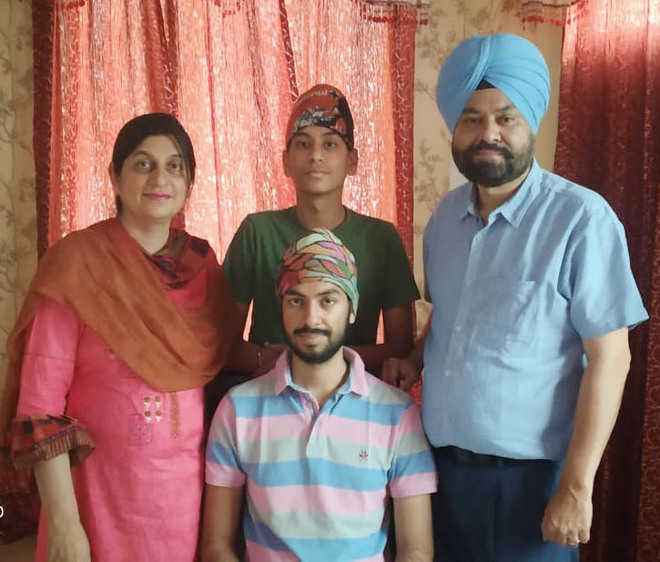 editorial@tribune.com
Aparna Banerji
Tribune News Service
Jalandhar, May 3
Wards of three principals of city-based academic institutions have achieved big in the CBSE Class XII exams the results of which were declared on Thursday. While Usneek Singh from MGN Public School, who got the second position in the non-medical stream with 97.6 per cent, is the son of Jagroop Singh, principal of Mehr Chand Polytechnic, Rhea Singh from MGN Public School, Urban Estate, who stood third in the commerce stream is the daughter of MGN Urban Estate principal Jatinder Singh.
Aneet Kaur Hundal, daughter of Jaswant Singh Hundal, principal of Mayor World School, has bagged the third position.
Speaking to The Tribune, Usneek said: "I am feeling very happy. The results have been on the expected lines."
While his farther runs Mehr Chand Polytechnic College in the city and his mother Arvinder Kaur is the principal of Government Senior Secondary School, Maqsudan, Usneek aspires to be an engineer and also has his eyes set on the civil services.
Preparing for JEE (Advanced), Usneek shared: "During pre-boards, I had been studying for six to seven hours but in board exams I increased the same to eight to nine hours. Since it was a long sitting, I took walks and little music breaks to relax in between."
Saying regularity is the key to making it in exams, he said: "Be regular, keep concepts clear, that is all which matters. Whatever you study, pursue it diligently and things will work out."
Usneek is interested in pursuing mechanical or computer science stream and is currently preparing for his upcoming JEE (Advanced) test. He credits his parents for his success.
He finally quips his father and other being an academic was never a pressure for him. As they allowed him the freedom to pursue whatever he wanted.
Rhea Singh, daughter of Jatinder Singh, principal, MGN Public School, Urban Estate, has been a 10 CGPA student all through. Bagging 97.2 per cent in the commerce stream, Rhea plans to be an accountant. While her mother Sukhwinder Kaur pursued microbiology, her father is MSc, physics. However, Rhea wanted to be an accountant since the beginning, a path in which she says her parents wholeheartedly backed her. Jatinder says: "My daughter never asked for anything. She never had an inclination to science. She has been clear about pursuing accountancy and I supported her."
Rhea, who is also a lawn tennis player, bagged 10 CGPA all through her matriculation and aspires to pursue either BA honours in economics at Panjab University or BCom from Shri Ram College of Commerce in New Delhi. Crediting her teachers to be a huge support system, her father also modestly says they have backed her all through. "If she took science, I could have taken credit for teaching her. But she took commerce and it has been her teachers all through and their hard work which paid off." Rhea's elder sister pursues law and younger brother is in Class X.
Aneet Kaur Hundal, daughter of Mayor World School principal Jaswant Singh Hundal and Amardeep Kaur, HoD, chemistry, at MGN, got 96 per cent in the non-medical stream. An all-rounder, Aneet has represented the state in lawn tennis at the national level for the fifth consecutive year this time.
Aneet played nationals once in the U-14 category and twice in the U-17 and U-19 categories.
Her father said: "With her sports, she maintained long hours of study, giving six to seven hours a day for the same. She is preparing side by side for the JEE (Advanced) and aspires to make the best in both sports and academics.
Achievers stream-wise
In non-medical, Rajas Bhatt got the first position with 99 per cent, Usneek Singh from MGN Public School got the second position with 97.6 per cent and Sahib Singh from MGN Public School, Adarsh Nagar, got the third position with 96.8 per cent. DPS' Nakul Aggarwal stood fourth with 96.6 per cent.
In medical, Harmandeep Kaur Rai, from Apeejay School, Rama Mandi, stood first with 97.2 per cent, Surabhi Khanna from Delhi Public School stood second with 97 per cent, and Ravleen Kaur from MGN Public School, Urban Estate, got the third position with 96.8 per cent.
In commerce, Kavya Kapoor (MGN Public School, Adarsh Nagar) and Himanshu from Apeejay School jointly stood first at 98 per cent, Aditi Thukral and Avneet Kaur both stood second with 97.4 per cent and Mehak from Mayor World School and Rhea Singh from MGN, Urban Estate, jointly stood third with 97.2 per cent.
In humanities, Swati Panda stood first with 98.2 per cent, Pavit Sond from Army Public School bagged the second spot with 97.8 per cent and Drishti Ohri from Cambridge International School for Girls stood third with 97.2 per cent.