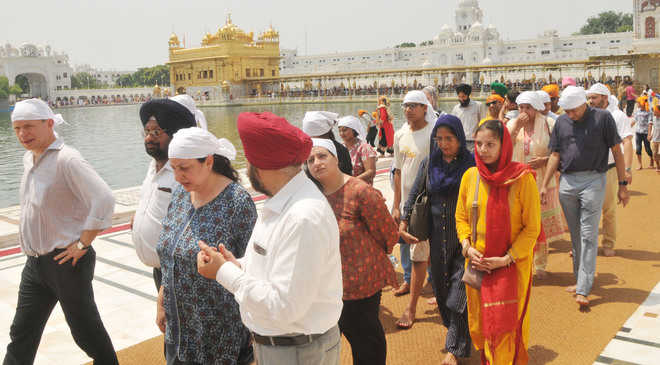 Tribune News Service
Amritsar, June 26
A team of the United Nations Development Programme (UNDP) on Wednesday visited Amritsar for gathering ground report for the implementation of the National Clean Air Programme (NCAP) in association with the Ministry of Environment, Forest and Climate Change (MoEF & CC). They also paid obeisance at the Golden Temple.
The UNDP has started a scoping mission on air pollution in three cities- Amritsar (Punjab), Varanasi (Uttar Pradesh), Gurugram (National Capital Region).
The aim of this mission is to develop a strategy paper on combating air pollution in India with substantive inputs for implementation of the NCAP at the national and sub-national level to present a roadmap for United Nation's engagement in the state/city and at the national level in India.
The UN Air pollution Mission Team, headed by Xiaofang Zhou, Mission Leader and Director, Montreal Protocol and Chemicals Unit, New York (UNDP), along with 14 members, held a meeting with officials of the district administration and the Punjab Pollution Control Board (PPCB), academic and civil society institutions.
The PPCB and Department of Science, Technology and Environment, under the dynamic leadership of Chairperson-Professor SS Marwaha, and Rakesh Verma, Principal Secretary, have finalised the clean air action plan for nine non-attainment cities under which Amritsar is also one of the cities.
Krunesh Garg, member secretary of the board, made a powerpoint presentation and presented the salient features of clean air action plan of the city informing about the air quality of Amritsar. The air quality index of Amritsar has reduced from 132 to 115 for 2017 and 2018, respectively. Further, the monthly average value of AQI from January 2019 to May 2019 is recorded as 100, which is almost satisfactory.
DC Shiv Dular Singh Dhillon came out strongly with a proposal of introduction of metro rail project in Amritsar which can be effective for elimination of movements of vehicles carrying tourists in the city thereby reducing the vehicular emission.
Komal Mittal, Additional Commissioner, MC and CEO of Amritsar Smart City Ltd, pointed out the air emissions generated in the city due to construction and demolition activities and proposed for establishment of 35-40 metric tonnes per day plant in Amritsar.