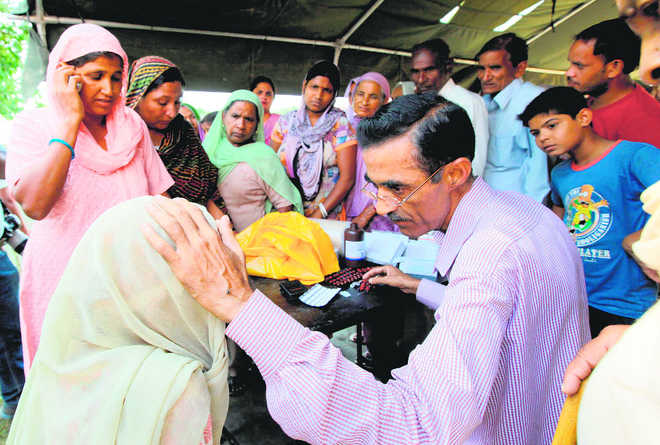 laxmi@tribune.com
IN the 40 years since the Alma-Ata declaration of 'Health for all by 2000' and despite notable advancements, less than half of the world's population today receives all the health services it needs; about 100 million people are pushed into extreme poverty because they have to pay out of pocket for health services.
With the aim of addressing these challenges, the heads and representatives of 193 Member States assembled at the 74th United Nations General Assembly (UNGA) in New York on September 23 to discuss, for the first time, universal health coverage (UHC) under the theme of 'Universal Health Coverage: Moving Together to Build a Healthier World'.
In his opening remarks, UNGA president Tijjani Muhammad-Bando said, "Access to critical health services must be a fundamental right and not a privilege." He underscored that "the objective of UHC is to strengthen health systems by ensuring that people have access to affordable preventive, curative and rehabilitative health services."
The high-level UN meeting reaffirmed, through a political declaration, its strong commitment to achieving UHC by 2030 with a view to scaling up global efforts to build a healthier world for all.
UN chief Antonio Guterres called UHC "the most comprehensive agreement ever reached on global health." He stated that this 'significant achievement' would drive progress over the next decade on tackling communicable diseases, including HIV/AIDS, tuberculosis and malaria, while addressing non-communicable diseases and the growing threat of antimicrobial resistance through robust and resilient primary healthcare systems.
The key priorities are: increasing health financing, strengthening health workforce, building sustainable and resilient people-centric health systems, and investing in and strengthening primary healthcare.
In adopting the declaration, UN Member States have committed to "leaving no one behind, reaching the furthest behind first" and ensuring that no one suffers from financial hardship by having to pay out of pocket for healthcare. In addition, countries must strengthen their health workforce and infrastructure that are essential for a robust healthcare system.
The UN meeting was also attended by Prime Minister Narendra Modi. Addressing the plenary, the PM said, "Health does not simply mean freedom from diseases. A healthy life is every person's right. The onus is on our government to make every possible effort to ensure this." Underlining various steps taken by India, he mentioned Ayushman Bharat, the largest health protection scheme in the world, under which poor people are to be given up to Rs 5 lakh a year for tertiary and secondary care. In addition, 1.25 lakh health and wellness centres are being established to provide preventive care for chronic and communicable diseases at the peripheral level.
Despite the growing evidence that enhanced investment in health can bring health and economic benefits, India continues to under-invest in this sector. The government's health spend as a part of the GDP (Gross Domestic Product) remains around 1.3 per cent, one of the lowest in the world. The out-of-pocket expenditure, on the other hand, is among the highest at 65 per cent. As a result, 60 million people every year are pushed into the poverty trap from which they cannot escape.
Against this background, the emphasis on universal health coverage is both relevant and timely for India. Going forward, there is a need for a clear implementation strategy and an action plan for operationalising the idea.
Here are ways to achieve UHC and reduce access-quality gap:
1. Invest in primary healthcare and strengthen local health systems
The government must increase its allocation for public health and clinical care, with focus on primary healthcare. The UN meeting has recommended that countries must increase expenditure on primary healthcare by at least 1 per cent of their GDP so as to bridge the coverage gaps.
We need to recognise that UHC cannot be achieved without strengthening primary healthcare. The latter brings people into first contact with the health system and is the most inclusive, effective and efficient approach to enhance people's physical and mental health as well as social well-being.
In practical terms, each district must formulate a multi-sectoral district plan with the involvement of all stakeholders, with a unified budget, and an accountability framework. The progress can be reviewed at the end of each year and course correction done on the basis of the findings of the annual review.
2. Focus on access and quality
Health infrastructure in India is fragile and overstretched. The most critical issue is human resources at various levels of health services — with up to 40 per cent of health workers' posts lying vacant in some states-and poor management capacity. Most health facilities suffer from perennial shortage of doctors and even some district hospitals like in the remote tribal district of Lahaul & Spiti (Himachal Pradesh) have no specialist doctor.
It is imperative to improve the quality of public sector hospitals and health centres, ensure adequate supply of medicines and products and engage the community. Each district requires physical and human infrastructure needed to deliver benefits. There should be provision for training and retraining of health workers and the availability of clean water and power, medical equipment, laboratories, and management and information systems.
The Central government's plan to establish health and wellness centres (HWCs) across the country offers a unique opportunity to strengthen primary healthcare, thereby enhancing access to services close to home and addressing the quality aspects.
3. Prioritise the most vulnerable first
In a democratic society, the government's primary responsibility is to care for those who cannot fend for themselves. Therefore, it is critical to define a cost-effective package of essential health services — promotive, preventive, curative, rehabilitative and palliative — and make it available to all, but with special emphasis and priority accorded to the poor, vulnerable, and marginalised segments of the population. Governments at the Centre and in the states must politically commit themselves to "leaving no one behind, reaching the furthest behind first."
As the UHC rollout gets underway, the exercise has to be accompanied by a solid management information system and monitoring and evaluation framework right from the start. New technologies can enable these steps.
Simply put, UHC means everyone, everywhere having access to a comprehensive and sustainable healthcare service of quality, without having to suffer financial hardship.
After the rhetoric at New York, it is time for action at the ground level as the goal of UHC cannot be achieved without political will and compassion for citizens who have long been suffering from lack of quality health services. When the political class in the states wakes up from its self-induced slumber and forces officials concerned to shed their bureaucratic and administrative inertia, the light at the end of the proverbial tunnel may hopefully emerge. It is now time to take necessary steps for turning a global aspiration into local action.
Gaps in health services (global)
More than 1 billion people live with uncontrolled hypertension
Over 200 million women lack adequate access to family planning services
Around 20 million infants do not receive 3 essential immunisations
Drain on resources
Health expense is a key reason why families are pushed into poverty
100 million people fall into extreme poverty due to out-of-pocket health expenses
More than 800 million (almost 12% of world's population) spend at least 10% of household budget on healthcare
Almost 180 million spend at least 25% of their household income for treatment
All UN Member States have agreed to try achieve universal health coverage by 2030, as part of sustainable development goals (SDGs)
How India spends
Health expenditure is largely out-of-pocket (65%)
Only 17% of the population covered by some form of health insurance, prior to the launch of Ayushman Bharat scheme
Health situation not uniform in the country; Wide disparities exist between rich & poor, between private medical sector and government health facilities, between urban and rural areas, and between those living where quality health services are available and those in geographically remote districts of the country.
The author is former Regional Adviser and Director, World Health Organisation, Regional Office for South-East Asia
All readers are invited to post comments responsibly. Any messages with foul language or inciting hatred will be deleted. Comments with all capital letters will also be deleted. Readers are encouraged to flag the comments they feel are inappropriate. The views expressed in the Comments section are of the individuals writing the post. The Tribune does not endorse or support the views in these posts in any manner.
Top Stories