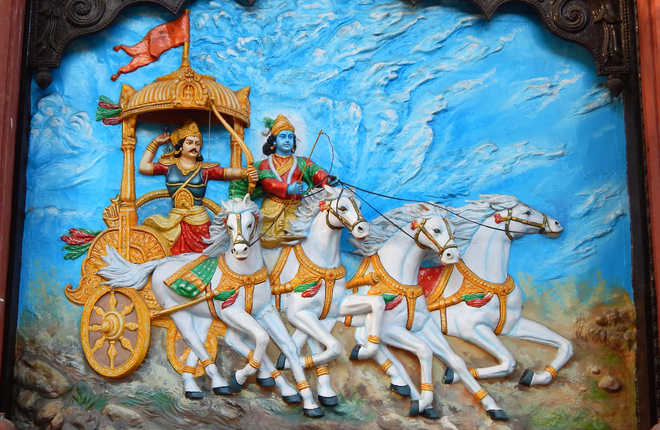 Vijay Tankha
German philosopher GWF Hegel is as well known as he is infrequently read, except mostly by scholars. For those who have not forgotten, he was particularly dismissive about Oriental (read Indian) thought and culture. And if he is remembered at all, he said some pretty ugly things about India. All the more reason why this selection of what he wrote about India marks a course correction for those who want to revisit in some detail what he actually said about India. Hegel was a prolific writer who seemed to adopt the rule of not saying in ten words what can be said in a thousand.
Danish philosopher Søren Kierkegaard called him 'a wind-bag', but Hegel's work not only influenced Marx, but also much of succeeding Continental thought. Though dismissive of Indian thought, Hegel, as the authors in an excellent comprehensive introduction in the book show, wrote a great deal about India, revealing an interest in systems like the Vedanta (German Indologist Paul Duessen was a friend of Hegel), which showed that he was not as cavalier in his attitude towards the East as might at first be thought. But Hegel was also the creator of a global history of philosophy, desirous of putting into place whatever might come to mind.
The authors point out that within the admittedly vast corpus of his writings, "In all of Hegel's work, the longest, sustained treatment of one geo-cultural art or religion or philosophy are without exception always of India." Why this is so may not be far too seek, for Hegel also was a monist, holding that there was only one world spirit Der Geist, which unrolled though history according to implacable laws. It would only be natural that the possibility that our very own Shankaracharya may have anticipated him by a few centuries must have piqued his curiosity. And though he had no direct access to Indian texts, he was an avid reader of those sources available to him and shows a familiarity with the Indian schools which would, even today, put most educated Indians to shame.
While he espoused all the colonial prejudices of his age (racism, orientalism, chauvinism), Hegel, nevertheless, philosophically engaged with the newly discovered treasures of Indian philosophy, where he discovered that key ideas of his own had been already been articulated (much more economically one might add).
Take for example his essay on the Gita, a 150-page response to a short article by the philologist Humbolt. Hegel not only outlines Arjuna's objections but also engages with them: is not the poem after all an endorsement of varna dharma? Indeed Krishna claims that he himself is the author of the four varnas and the only duty that one has is to one's varna (Hegel, like others then and now, uses the word caste for varna: Krishna was not casteist). Hierarchy and authority are the bedrock of the Gita's world view, unless it can be imaginatively re-interpreted (as, say, Gandhi did). But Hegel is also an astute reader, he is aware that what is called Patanjali Yoga is not really present in the Gita, though he grasps that the yoga that is central to the Gita, is a kind of devotion, a meditation which has no content but is the silencing of all inclinations and passions.
Apart from the essay on the Gita which should be of interest to anyone thinking of the Indian tradition, there are selections from Hegel's writings on the philosophy of fine art ('the fantastic dreams of a restless and inquisitive imaginative power'); on the philosophy of religion (like poetry, 'it is beautiful…but rests on the craziest of foundations'); philosophy of mind (where the contrast between universal and particular, though made, remains undigested); and the lectures on the history of philosophy — an influential work whose first volume is almost entirely devoted to Greek philosophy and where, in some 20 pages Hegel aims to grasp the essence of Indian philosophy: a featureless universal devoid of particularity; the inability to divorce philosophy and religion and, most importantly the lack of individual freedom, both socially and politically.
While the editors offer a reinterpretation of Hegel's writings on India, what is most compelling about this volume is reading an influential 19th century thinker's creation of the oriental outlook that was to dominate western scholarship and even fashion sustaining the self image which many orientals imbibed under colonial rule.
Top News
Overseas ramifications as Boris Johnson's brother quits link...
Both Houses adjourned for the day amid uproar over Adani iss...
DGP said Arif was being handled by a Pak-based LeT terrorist...
CM Kejriwal says all the cases filed by ED are fake and they...
IPS officer has been accused of corruption and misconduct du...