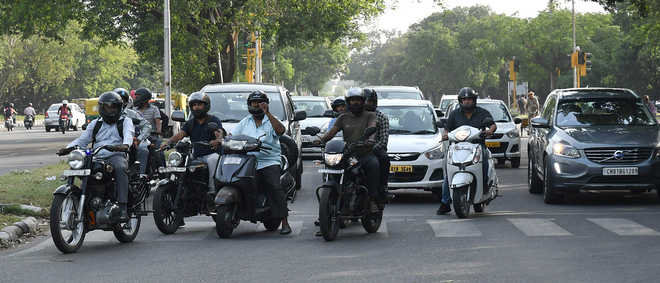 Tribune News Service
Chandigarh, June 18
Three cars coming from the Housing Board crossing move at blinding speed as the green light signalling a right turn at the railway crossing on Madhya Marg are seen blinking, indicating a few seconds left for the light to disappear.
Drivers of the three vehicles stop their cars next to each other almost occupying two complete lanes instead of stopping in a queue on the extreme right lane, which is meant for those intending to take a right turn.
Soon, two more vehicles come from the rear side and stop next to the these after suddenly indicating the right turn signal, making it difficult for the vehicles coming from behind to move straight towards Transport Chowk for which there is a green light.
Almost 75 to 80 per cent of the road is occupied by those who intend to turn right after the next green light.
The problem of motorists blocking the way of left-moving traffic at light points is rampant across the city that not only leads to traffic snarls but also results in unnecessary honking. In the absence of any police action against the violation, motorists continue to flout norms.
The UT traffic police had last month placed cones at various points to give a free way to the left-moving traffic. However, the problem is persistent at various other points across the city.
The problem can also be witnessed on the road from the Transport light point towards Tribune Chowk.
Sunil Kang, a resident of Sector 15 who usually travels through this road, said the traffic turning right towards Sector 28 blocks the way of the straight-moving traffic at the Sector 28 light point. Similarly, motorists at the light point from where traffic turns towards the Sector 28/29 dividing road also block the way of straight-moving traffic.
The situation is no different at the Centra Mall light point where motorists moving towards the Industrial Area make several queues at the light point, hardly leaving way for the traffic moving towards the Transport light point.
A police official said they were planning to start an awareness drive for motorists regarding giving freeway to the left-moving traffic, which was usually blocked by vehicles waiting at the traffic lights. "Once we are done with the awareness drive, we will consider challaning motorists for blocking the way of the left-moving traffic," said a police official.
The traffic police had recently placed cones at various light points to segregate the left-moving traffic. The cones were placed at the Poultry Farm chowk, iron market chowk, new barricade chowk, Sector 2/3/10/11 chowk, old barricade chowk, Batra chowk, Press light point, Sector 16/17 light point and the Sector 25/38 intersection to ensure that there was no traffic congestion on the roads.