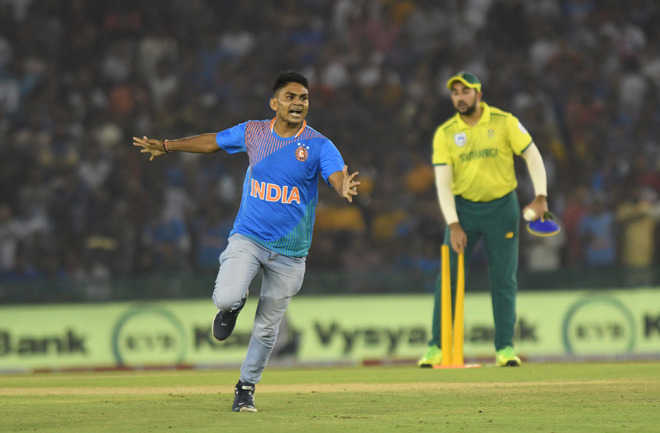 shalender@tribune.com
Deepankar Sharda
Tribune News Service
Chandigarh, September 18
Chaos prevailed at IS Bindra PCA Stadium during the T20I match between India and South Africa with fans finding their allocated seats being already occupied, even as every attempt was made by the host association to ensure that people with VIP passes didn't face any inconvenience.
"When we reached our allocated seats, they were already occupied. There was no one from the organisers whom we could have complained to. We sought help from the police personnel, but they refused to entertain us," said Amarinder Warrich.
"The authorities concerned should be held accountable for this chaos. If we are being charged according to our seats, we deserve better facilities. I will surely approach the consumer court in this regard," Warrich pointed.
It was perhaps for the first time that there was no one inside the stadium to check the tickets and people outnumbered the actual capacity of the stands.
While the general spectators had a torrid time, proper arrangement was made for the VIP fans at the Level-I enclosures.
"We have pre-decided enclosures for our guests and these are being identified accordingly. There is nothing wrong in it," said PCA general secretary RP Singla. He, however, refused to comment on the problems faced by the general public.
Pitch invasion
Meanwhile, the security personnel at the stadium were caught napping as three incidents of pitch invasion were witnessed during the match.
While a youngster took advantage of the innings break and ran towards the Indian players, only to be whisked away by the security personnel after he was in close company of the cricketers, another man breached the security and ran on to the ground to make an unsuccessful attempt to shake hands with skipper Virat Kohli in the 13th over of the Indian innings.
If the two incidents were not enough to alert the security, another invasion was witnessed in the 19th over of the second innings.
All the three men were taken to the Phase 8 police station.