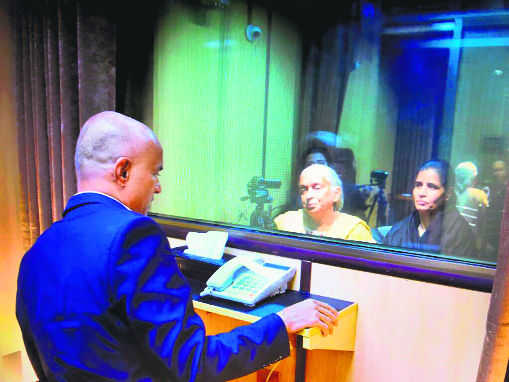 Vivek Katju
Ex-Secretary, Ministry of External Affairs
Beginning February 18, India and Pakistan will lock horns at the International Court of Justice (ICJ) at The Hague in the Kulbhushan Jadhav case. The court will hear India's plea against Pakistan's denial of consular access while it convicted Jadhav to death in a sham trial in a military court on concocted charges of terrorism and espionage after abducting him from Iran into Pakistan. India had won the first round in 2017 when the ICJ had, on India's urging, restrained Pakistan from taking any further step in the Jadhav matter. Now, for both countries more is at stake as it is, of course, for Jadhav and his family.
Pakistan launched what was virtually 'Operation Jadhav' in 2016 to project India as a sponsor of terrorism. By doing so, it wanted to take the edge of the universal charge that it has been harbouring and using terrorist groups such as the Lashkar-e-Taiba to secure its foreign and security policy objectives. Hence, Jadhav's kidnapping from Iran and the claim that he is a serving Naval officer when India has asserted that he retired and was, thereafter, engaged in private business in Chabahar. Hence, also, the intense media campaign launched against him in March 2016.
At that stage, the Pakistan army spokesman had said Jadhav had disclosed that his handlers were National Security Adviser Ajit Doval, the then R&AW chief, and another officer of that agency. This was part of Pakistan's plan to show that the so-called Indian involvement in promoting state terror was being directed from its highest official level. Pakistan did not repeat this charge publicly. However, in January 2017, it sent a list containing 13 names allegedly of Jadhav's collaborators whom it wanted to interrogate. Pakistan did not put the names in the public domain. It refrained from doing so even at the ICJ hearing in 2017, though it did confidentially disclose them to the judges. Pakistan's nuanced approach offered the very slim hope that it realised this assault on the Indian intelligence agencies and security establishment would have grave implications for the future. This was not to be.
There is no doubt that it would have now put the list in its written pleadings. The written submissions have not been put on the ICJ website as yet, but will go up once the hearing begins. In the remote possibility that the court withholds them during the hearing, they will become public when it concludes on February 21. External Affairs Minister Sushma Swaraj had told Parliament in 2017 that Pakistan had implicated persons who could have had no connection with the Jadhav issue. The disclosure of the officials' names will cause anger in the country because it will be seen as an attempt to malign them. In addition to officials, if the list has names of non-officials such as any Jadhav family members, the country is likely to be outraged. This will be all the more if Pakistan casts aspersions on them in oral pleadings.
India's case is that consular access is a basic and unfettered right of an apprehended individual and his country under Article 36 of the Vienna Convention of Consular Relations. Its denial to Jadhav and India has absolutely vitiated the court process. As the award and confirmation of the death sentence has inflicted untold suffering on Jadhav, it is only proper that the court orders his release and repatriation to India. This will be India's first plea. However, Harish Salve, India's lead counsel in the case, had admitted in 2017 that the court has never ventured so far in any such case.
Alternatively, if the court agrees, as it should, that the absence of consular access impaired Jadhav's defence, especially as the entire trial was held in a closed military court, it would strike down the entire court proceedings in the case and order judicial proceedings to take place afresh. In such a situation, it would direct Pakistan to give India consular access to Jadhav and thereafter allow it to launch a fresh case against him. The question then to watch would be if the ICJ desires that Jadhav be tried openly by ordinary criminal courts. India will naturally argue for this, but Pakistan will doubtless assert that its military courts have obtained the sanction of its apex court and are meant to combat terrorism.
Questions that the ICJ will also have to consider are if it has jurisdiction in the case and if the India-Pakistan agreement on consular relations of 2008 can limit the convention. In 2017 the court had found, overruling Pakistani objections, that prima facie it had jurisdiction and also that the bilateral agreement did not impede India's case for consular access to Jadhav. It also did not agree to Pakistan's contention that its claim of espionage against Jadhav could restrict the application of the convention. These points will be now considered in detail, but often a court's preliminary assessments prevail.
It is likely that Pakistan, particularly its army, will seek to use the hearing for a full-scale propaganda onslaught on India. Its disgraceful conduct and propaganda when it allowed Jadhav's mother and wife to meet him in December 2017 point in this direction, too. It has ignored the lessons of history that matters relating to allegations, as in the Jadhav case, are handled discretely between countries and not as the now out-of-favour former ISI chief Asad Durrani, admitting that Pakistan had handled the case poorly, said: 'In the case of Jadhav, it was pathetic how much shouting from the rooftops there was, as if it was a cricketing victory. We just cannot contain ourselves.'
But can maturity be ever expected of Pakistan? The answer, as the Jadhav case illustrates, once again, is 'never'.
Top Stories