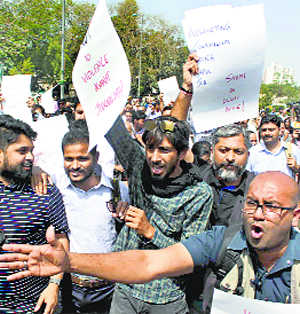 New Delhi, March 26
A group of journalists today took out a protest march from Press Club of India (PCI) to the Parliament Complex, demanding action against Delhi Police officials accused of attacking journalists during a protest march organised by JNU students and teachers last week.
However, two policemen – woman constable and a head constable – have already been suspended from service for allegedly snatching the camera of a photo journalist during the protest march.
In a statement issued by PCI, Indian Women's Press Corps, Press Association and Federation of Press Clubs in India and Indian Crime Reporters' Association, the journalists demanded that two separate FIRs be filed against policemen based on two complaints and immediate action be taken.
Two journalists had on March 23 filed separate complaints for molestation and assault during the protest march last Friday.
The journalists were stopped by the police at Raisina Road. They submitted a memorandum of their demands to the police. – TNS
Top News
According to Rushdie's agent Andrew Wylie, nerves in his arm...
Natwar was Minister of State for External Affairs when Rushd...
All the four employees were dismissed from service under Art...
The exam was postponed for 11,000 candidates to accommodate ...
Had submitted resignation in Jan 2019 and floated his own po...