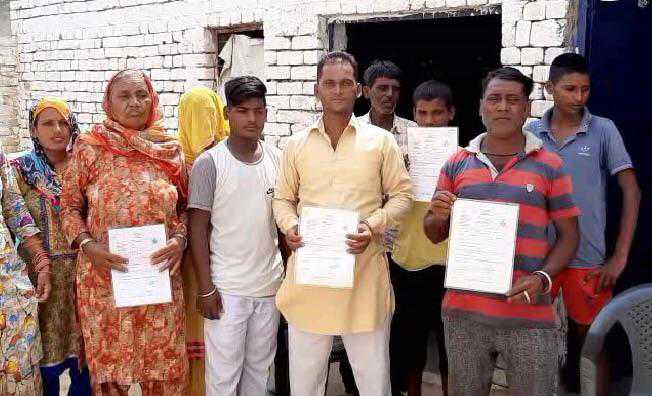 editorial@tribune.com
Deepender Deswal
Tribune News Service
Hisar, August 17
Despite the directions of Chief Minister Manohar Lal Khattar, around 10 families of Bighar village in Fatehabad district are yet to get LPG gas connections under the Pradhan Mantri Ujjwala Yojana (PMUY). They continue to use the traditional wooden 'chulha' in their houses.
Kamla, a woman from the village, said that they had approached the authorities for getting a gas connection, but her wait for it continues. "I prepare food on the 'chulha' by burning wood. Though we filled the forms on Wednesday, there seems to be a delay in the completion of formalities," she said. Manju said that she too had been waiting for the gas connection like other neighbouring families of Dhoop Singh, Chhabil Das, and Kalpana. District Food and Supply Controller Pramod Kumar, however, claimed that they have a list of 27 such families of which only 10 families had been found to be eligible for gas connections under the PMUY. "All these families have been given gas connections, as per our records. If there is any delay anywhere, I will get it checked," he said.
Additional Deputy Commissioner (ADC) Mahavir Singh said that they had prepared the list after the Chief Minister's announcement. "The process to give gas connections to these families has been completed and I hope that all of them have benefited," he added. The Chief Minister, at a public meeting in Fatehabad district on August 9, had asked if there were families that did not have LPG connections while making a commitment to get it done within 48 hours. After some people raised their hands, District Food and Supply Department officials sought their names and prepared a list of 27 families.
Later, the DFSC office submitted the report to the ADC office on August 14 (a copy is with The Tribune) stating that of the 27 families, 11 had already been allotted gas connections.
The report said that eight families had been given connections while five families had not come to the gas agency to complete the formalities though they had been contacted repeatedly. The ration card details of three families were not available online, the report said.
Cooking food on 'chulha'
I prepare food on the 'chulha' by burning wood. Though we filled the forms on Wednesday, there seems to be a delay in the completion of formalities. Kamla, resident, Bighar village