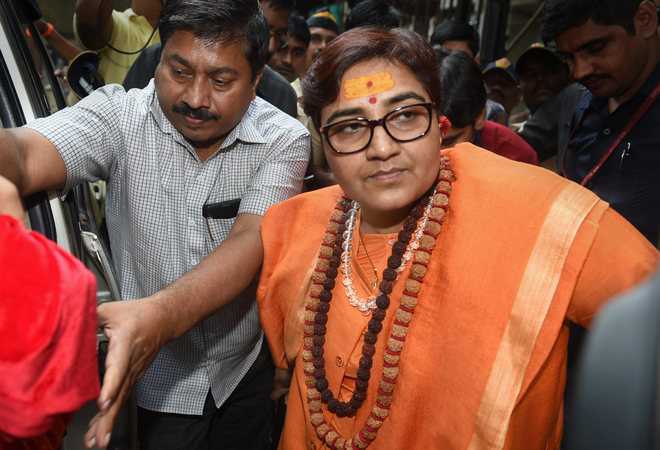 Cocking a snook at the law and the judicial process, the BJP has fielded Malegaon blast case accused Sadhvi Pragya Singh Thakur from Bhopal against Congress veteran and former Madhya Pradesh CM Digvijay Singh. Out on bail for the past two years, the Hindutva hardliner was discharged by a court of charges under the Maharashtra Control of Organised Crime Act (MCOCA) in the 2008 case, but she is still facing trial under the Unlawful Activities (Prevention) Act and sections of the IPC pertaining to murder and criminal conspiracy. The saffron party and Pragya herself allege that she was framed by the then Congress-led UPA government in an attempt to validate its 'Hindu terror' theory.
The BJP has been emboldened by the recent acquittal of Swami Aseemanand and three others in the 2007 Samjhauta Express blast case. The accused had walked free as the National Investigation Agency (NIA) failed to establish their role in the blast that killed 68 people, mostly from Pakistan, on the cross-border train near Panipat. The shoddy probe had prompted the NIA special judge to observe that a dastardly act of violence remained unpunished for want of 'credible and admissible' evidence. Nevertheless, the verdict provided the BJP with ammunition to accuse the Congress of maligning the entire community by 'propagating a false story of Hindu terror'. Even in the Malegaon case, the NIA filed a chargesheet giving the clean chit to Pragya and three others, saying that it had found no evidence against them and they should be discharged. The NIA court, however, had refused to grant relief to the radical leader.
The ruling party is in no mood to hold the leading investigation agency accountable for its lapses or wait for the final judgment. Instead, it has chosen to take the matter to the 'people's court' by pitting Pragya against a known RSS-baiter. Senior party leader Subramanian Swamy has gone to the extent of saying that the charges against the candidate are in the 'final stages of being dismissed', as if her acquittal is a foregone conclusion. Having picked a controversial nominee, the BJP can no longer take the moral high ground.