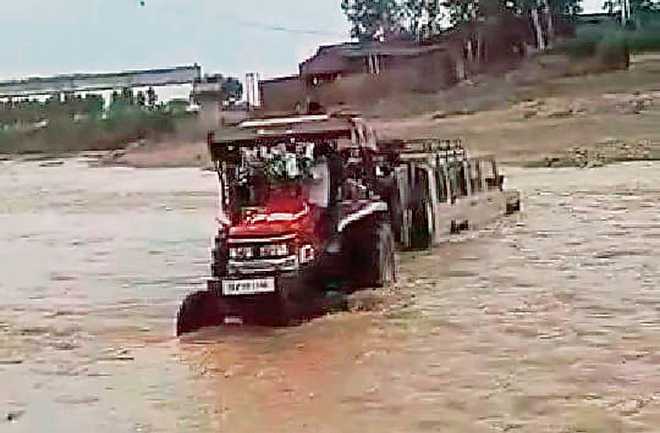 ONE man's inhumanity imperilled their lives. Another man rose to the occasion and saved them. It was a providential escape for the 20-odd Nurpur school students who were left stranded by a jeep driver in the flooded Chhonchh rivulet at Indora in Himachal Pradesh's Kangra district. The Good Samaritan who came to their rescue was a tractor-trailer driver. He put his own life on the line for the sake of the children, a brave act for which he deserves to be honoured befittingly. And the law should take its course against the jeep driver for failing to ensure safe transport for the students. Any leniency would only embolden others guilty of dereliction of duty.
Though fortunately there was no loss of life, the incident has revealed sheer callousness on the part of the authorities. After the Chhonchh bridge was washed away in August 2016, the state government had sanctioned a new one at an estimated cost of Rs 12 crore. Three years later, the project remains unfinished. Commuters and pedestrians have no option but to wade through the waters to reach their destinations. The authorities have put up warning signboards, but that simply amount to washing their hands of the matter. A major tragedy cannot be ruled out unless work on the bridge is fast-tracked.
It seems the local administration has learnt no lesson from the fatal mishap that occurred in Nurpur in April last year. Thirty people, including 27 children, were killed after a private school bus rolled down a gorge. The police investigation indicted the driver, who had also died in the accident. However, his family members and those of other victims rejected the probe report, claiming that the driver was being made the scapegoat, and sought a CBI inquiry. Aggrieved parents had even prostrated themselves on the road leading to the Deputy Commissioner's office in Dharamsala to highlight their demand, but to no avail. Thursday's close shave has again exposed the blatant disregard for the safety of schoolgoers. Let's see if it acts as a wake-up call for all stakeholders.