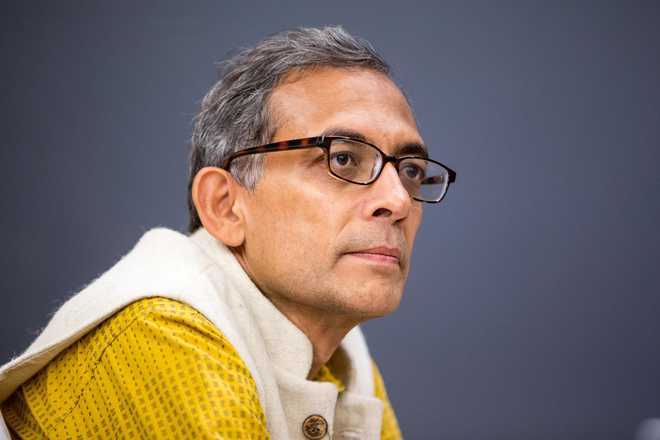 Poverty alleviation might be a mere slogan in politics, conveniently used during the elections to woo underprivileged voters, but it's a perennial challenge in development economics that has to be confronted with sustained and sincere efforts. The Nobel Prize to US-based economists Abhijit Banerjee, Esther Duflo and Michael Kremer is well-deserved recognition of their role in fighting poverty that has 'helped millions of children by favouring practical steps over theory'. The honour is expected to give a fillip to the global battle against deprivation and destitution. According to the United Nations' estimates, global poverty has been reduced by more than half since 2000, yet 10 per cent of the people in developing regions still live on less than $1.9 (around Rs 136) a day.
Banerjee and Duflo are founder-directors of the Abdul Latif Jameel Poverty Action Lab (J-PAL), a worldwide network of researchers that conducts studies as well as field experiments. Their team has pioneered randomised controlled trials (RCTs) in economics, used since long in the field of medicine to examine the impact of treatment on one group of people while another group is given just a placebo. They studied remedial tutoring programmes in schools of Mumbai and Vadodara and brought in new teaching assistants who would help children with special needs. On the basis of their experiments, they concluded that providing more textbooks and free meals on the campus had only minor effect, while targeted help for weak students made a huge difference to overall educational levels. It's true that such micro interventions can never give us the macroeconomic view, but their transformative influence can't be underestimated.
India-born Banerjee has been critical of the Centre's economic decisions — he called demonetisation a weird move — but his straight talk should not discourage the Modi government from utilising his invaluable experience to undertake reforms in education and healthcare. Former UN Secretary-General Kofi Annan once said: 'The biggest enemy of health in the developing world is poverty.' India needs the best minds to tackle the hydra-headed problem that is impeding growth and amplifying social inequality. 'Garibi hatao' should not remain a poll promise.
Top Stories