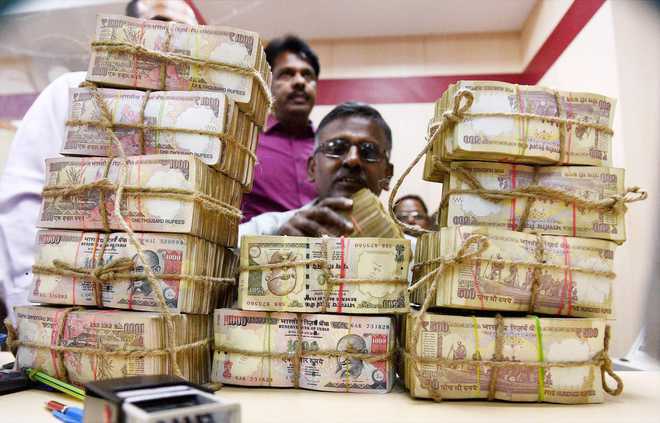 The Modi government's biggest policy decision to flush out black money has officially turned out to be a colossal failure. In November 2016, the government had taken the entire nation by surprise when it scrapped bank notes of Rs 1,000 and Rs 500 denomination worth Rs 15.41 lakh crore. The expectation to unearth black money amounting to around Rs 3 lakh crore now stands belied. After wading through the mountains of scrapped notes, the verdict is that about 99.3 per cent of the demonetised notes have returned to RBI's vaults. It could add up to almost 100 per cent if we include the demonetised notes held by NRIs and in neighbouring countries such as Nepal and Bhutan.
The RBI's data, thus, lands us in a quandary — either the country never had any black money at all, or the entire black money has been laundered. The first explanation is hard to believe and the second one hard to prove. It is difficult for any government to admit its mistakes, but no one can defend the indefensible. Rightly, the government has abandoned the alibi of unearthing black money. The other justifications — a boost to digital economy, curb on terror-financing and an attempt to weed out fake currency — have also lost appeal in the absence of corroborating data.
The RBI data suggests that post-demonetisation, Indian households have quickly rebuilt their cash reserves, contradicting claims of increased digital transactions. It is also evident that terrorism continues unabated despite demonetisation while the National Crime Records Bureau concedes the continued circulation of fake banknotes. The benefits of demonetisation are elusive, but its adverse impact on the economy is evident, slowing the country's growth rate by almost 1.5 per cent (a notional loss of Rs 2.25 lakh crore). The worst sufferers have been the poor, whose informal economy was shattered due to a cash crunch after November 2016. The government should assess the damage done to this section of society and help it recover.