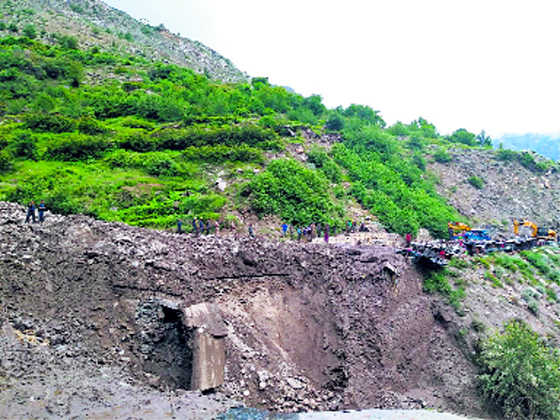 Tribune News Service
Dehradun, July 20
Four labourers working with the Border Road Organisation (BRO) were killed following a cloudburst on Friday morning in the upper reaches between Juma and Bhapkund, about 50 km from Joshimath (on the Joshimath-Malari road) in Chamoli district.
According to information received from the District Emergency Centre, Chamoli, the four labourers were swept away in the gushing waters. Their bodies were later recovered from the debris and muck after several hours of search operation by the SDRF men and police.
The camp in which these labourers were staying has also suffered extensive damage. Earlier, there were reports of five persons being buried under the debris, but later, the District Emergency Centre confirmed four casualties.
As the area falls in the upper reaches, lack of communication was a problem.
Chief Minister TS Rawat has asked the district authorities to offer all assistance to the BRO in speeding up the relief work.
Rishikesh-Badrinath NH blocked
The Rishikesh-Badrinath national highway is blocked at Lambagar due to the falling debris, while the Rishikesh-Gangotri, Rishikesh-Yamunotri and Rishikesh-Kedarnath national highways are open for traffic.
Top News
The counting of votes will take place on December 7
In his speech at IFFI-2022, Lapid had said he was 'disturbed...
The seized drugs are the spurious versions of leading brands...
The follow-up programme of Bharat Jodo Yatra will have yatra...
Discuss Russia-Ukraine war, highlight emerging security chal...