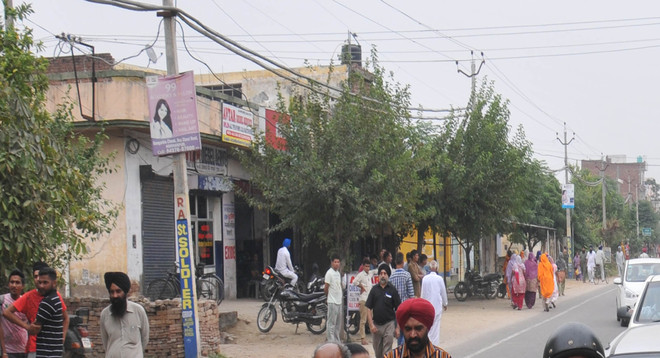 Deepkamal Kaur
Tribune News Service
Jalandhar, November 2
As many as 60 hectares, on which there are 600 shops, on either side of the Jalandhar-Hoshiarpur road are set to be acquired as a part of the four-laning project of national highway-70 soon.
The total stretch of the road is 58 km — starting from Rama Mandi in Jalandhar to near Chintpurni up to Punjab border. But the first 10-km stretch — from Rama Mandi to Kangniwal that is already four-laned — will not be a part of this acquisition.
The existing width of the road is nearly 10m. The National Highways Authority of India (NHAI) requires at least 12m more only for the carriageway, besides 45m width for the forest strip and future widening requirements.
The carriageway norms for a four-lane road include 5m of central verge and 8.5m on either side.
The objections from persons whose lands are to be acquired have been taken by the respective land acquisition collectors and a notification under section 3 D of the National Highway Act has been issued. The announcement for compensation is likely to be made soon.
The stretch to be acquired includes hundreds of shops in Jandu Singha, Adampur and Kathar, besides agricultural land on either side of the road.
The road is currently two-laned and the travel time between the two towns ranges from 35 to 45 minutes. Since the road is used by pilgrims to Chintpurni, its widening will be a big respite to them. The same road leads to Jwalaji, Chamunda Devi and other shrines. Congestion is often witnessed at Rama Mandi and Adampur.
SDM Jalandhar-1 and land acquisition collector Dr Rajat Oberoi said, "The acquisition will be held under the new Act of 2013. The compensation amount as per the new laid-down guidelines will be announced soon."