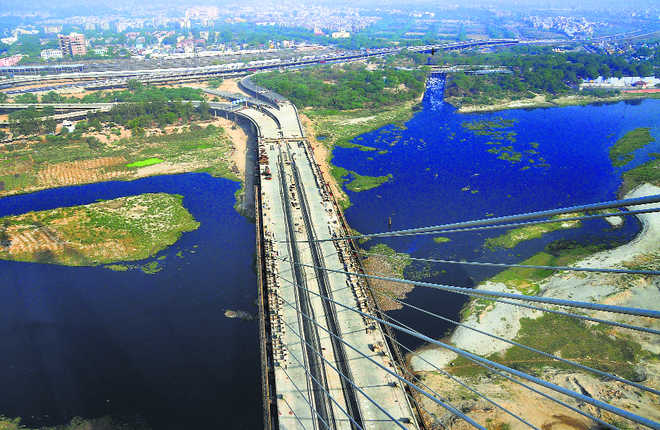 Vibha Sharma in New Delhi
Environmentalist Swami Gyan Swaroop Sanand aka GD Agrawal is on a fast again. This time to remind 'Gangaputra' of his commitment to 'Maa Ganga' four-and-a-half years back. After his victory from the Varanasi constituency in 2014, Prime Minister Narendra Modi had declared that he was a putra (son) of this holy river. The 'state' of India's holy river is back in focus, especially in view of the approaching General Elections. The 85-year-old first made headlines when he sat on fast-unto-death demanding uninterrupted flow between Gangotri and Uttarkashi.
According to Rajendra Singh, recipient of the Ramon Magsaysay Award, the Ganga is currently in its 'worst state, worse than it was in 2014'.
"The Ganga is in the ICU. How can a son (read Modi) see his mother die such a painful death? No Prime Minister ever made such an emotional appeal in the name of the Ganga, and like everyone, I believed him," says Rajendra, also known as 'the waterman of India'.
Himanshu Thakkar, coordinator, Sandrp (South Asia Network on Dams, Rivers & People), said, "Ganga's downward journey over the past three decades continues. It has not reversed or changed in these four years."
There is hope, still
Climate change will exacerbate problems caused by water extraction. The Himalayan glaciers are estimated to supply 30 to 40 per cent of the water in the Ganga, which was at its worse this winter. The situation, environmentalists warn, is only expected to get worse. But there is hope. According to Himanshu Thakkar, India needed to make groundwater sustainability the focus of water policy, not dams which reduced groundwater recharge.
"Even though Bhakra Dam is credited for the Green Revolution, 73 per cent of the irrigation in Punjab is from groundwater," he added.
The economic loss for the lack of safe drinking water was huge but a simple practice of community-linked rainwater harvesting, awareness backed by legal aids and government help could go a long way. Accounting for more than 40 per cent of water supply, groundwater was depleting faster than one thought. The crisis would worsen as demand would increase. And no, interlinking would not solve India's water woes, it would only intensify them, warn experts. "It will be more like linking of sewage than rivers. Rivers are living, breathing, life-giving entities with diverse bio-diversity and gene pools. They are like vessels carrying blood and you cannot mix different blood groups even as the last resort," Rajendra Singh says. But if India managed to harvest just 2 to 3 per cent of its annual rainfall, experts say, it could provide water throughout the year.
"Harvesting just 2 to 3 per cent of annual rainfall can be a gamechanger. Rainwater should be captured in natural vertical and horizontal fractures in river basins and other parts to recharge groundwater. Vertical fractures send the water directly to an aquifer. But when artificial dams are build, these rejuvenating vertical fractures are blocked and artificial facilities constructed from where water evaporates faster. "Instead of interlinking, government should spend money on reviving our dying baolis (stepwells), johads, ponds, aquifers. Link crop patterns with rain patterns and treat rivers as living beings by linking your hearts and souls with them," Singh added.
Many more Gangas
While the holy river gasps for life, environmentalists say the majority of India's rivers — big as well as small — are critical. Small rivers and tributaries feeding Ganga and Yamuna — on which depends the livelihood of around 132 crore Indians — are either dying or dead.
Not even one of the 13 key tributaries of Yamuna is healthy, says Manoj Mishra of the Yamuna Jiye Abhiyaan adding "Yamuna's condition is truly scary. When tributaries are in such a bad shape, how can the river be healthy?"
"The worst among Yamuna's tributaries are Hindon and Betwa. Chambal is dead in Kota while Ken, where all this planning of interlinking is being done, is itself struggling for the want of water. In Uttarakhand, all tributaries of Yamuna, including Tons and Giri, remain critical," says Mishra. Government's plans are largely focused on the abatement of pollution and setting up of sewage treatment plants. The first priority should have been to ensure aviralta (unhindered natural flow) of a river. First aim on natural dams, aquifers and catchment restoration, they will serve a river for the lifetime, feel experts. Unless aviralta is achieved, there can be no cleaning up but if government agencies do not have the requisite scientific assessment account on these natural resources, how can there even be a beginning, say environmentalists.
"There is no report on the state of Indian rivers, no detailed classification or assessment of their health on important parameters. When a doctor begins treatment, he first calls for information on health parameters of the patient — blood pressure, heartbeat, blood and urine analysis — doesn't he?" says Thakkar.
To begin with, there should have been an assessment of all river basins with resource mapping and classification as per water usage — drinking, agriculture and industries. Instead it is free for all, including the way the government looks at the most precious commodity — water.
Meanwhile, the Central Pollution Control Board (CPCB) focuses on pollution and biochemical oxygen demand levels, while the Central Water Commission is more about water levels in reservoirs.
According to the CPCB, the number of polluted rivers increased from 121 in 2009 to 275 in 2015. Of the 445 rivers monitored by the CPCB in 29 states and six union territories, 275 have been polluted, it said.
Meanwhile, a 2016 assessment by independent organisations like WWF India, Intach and Sandrp found that 205 of the 290 assessed rivers in the 'really sick' category and majority of others 'threatened'. According to Rajendra Singh, it is not just small rivers but stretches of major rivers are also dead and drying up.
The alarm bells are ringing
Rivers, monsoon, groundwater, aquifers, forests, climate change and global warming are interlinked. Thakkar says those advocating barrages and dams are not even aware of the dynamics of India's water usage.
"Nearly 80 per cent of India's water requirement is for irrigation, 90 per cent of which comes from groundwater? So why are they advocating dams, which destroy ecosystems, groundwater recharge systems, spell disaster for forests and biodiversity, besides displacing thousands, without even assessing the cost benefit," he says.
NITI Aayog's Composite Water Management Index recently made some alarming observations. It said India was suffering from the worst water crisis in its history. It further said 600 million Indians faced high to extreme water stress and about two lakh people died every year due to inadequate access to safe water. The crisis was expected to get worse by 2030, it said.
The fate of its rivers was sealed when India began its haphazard, rather unplanned, journey of mindless development and chemical and pesticide-ridden agricultural practices. And it is not just North and Central India. The situation is no better in the South, where many rivers like Godavari, Cauvery and Krishna are buckling under the pressure of pollution and population. "Rivers are being treated as lifeless entities like sewage drains. Indian tradition once saw them as living entities, giving them the status of a deity, which is how it should have been," says Singh.
The availability of water is also important for maintaining peace. Keeping aside the contentious conflicts on water-sharing with neighbouring countries, India has water issues among states. With monsoon becoming erratic by the year — prolonged drier spells, excess rains in some parts and deficiency in others — inability to harness rainwater is fast converting fertile land into arid and semi-arid desert. Climate change and ecological disaster is no longer the future. It is here, it is now. Chandra Bhushan, Deputy Director-General of the Centre for Science and Environment, sees several similarities between recent weather conditions witnessed by North India and the ones that led to the creation of a Dust Bowl in America in the 1930s. Rising temperatures, change in wind and weather patterns are all adding to man-made reasons — unsustainable water-guzzling agriculture, depleting groundwater/aquifers and deforestation and erosion of the top soil.
"It is time the government builds a narrative around land management and soil conservation, or else we may be headed for more intense dust storms in future. Recent signs in North India forewarn a disaster similar to the Dust Bowl," he warns.