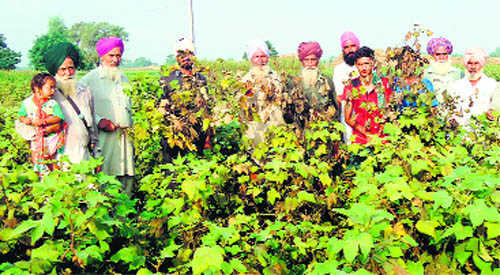 Sarbjit Dhaliwal
Tribune News Service
Chandigarh, October 4
Farmers have urged the state government to pass the Compensation Guarantee Act for farmers who suffer damage to their crops due to various reasons, warning that the deepening farm crisis could cause social unrest.
"We have been suffering because of the Badal government's misrule and not due to a natural calamity," said Hardev Singh Sandhu, president of the Kirti Kisan Union, which has been taking part in the ongoing farmers' agitation in the state.
"The state government's failure to duly compensate farmers for the last one-and-a-years has forced us to plan on stopping trains on October 7 and 8," said Sandhu. He warned that they would intensify their agitation if the issues raised by farmers were not resolved.
He said the government had failed to meet their demands of compensating cotton farmers at the rate of Rs 40,000 per acre and landless farm workers Rs 20,000 each. He said the Compensation Guarantee Act was required to make it a legal binding on the government concerned to pay farmers who suffer damage to their crops. "At present, there is no legal binding on the government. It keeps dilly-dallying on giving farmers relief," said Sandhu.
He warned that if compensation was not given to affected farmers, more and more farmers would commit suicide and the state government would be responsible. "The number of suicides went up in the cotton belt in recent weeks," he said.
He said Bt cotton seeds were not resistant to various insects and pests. "Bt cotton that was launched with much fanfare some years ago has proved to be a liability for farmers. They even sprayed a lot of pesticide to save their crop, but in vain," said Sandhu. He said though Bt seeds were banned in many countries, these were being sold in the country without any check.
"Certain experts, who had warned against sowing Bt seeds, have been proved correct," he said. He further demanded that Bt seeds should be banned immediately and farmers should be persuaded to switch to traditional seeds.
Stop playing politics, SAD tells Congress
Chandigarh: The Shiromani Akali Dal (SAD) today urged a section of farmer organisations as well as state Congress not to "play politics" over the plight of the farming community. In a statement issued here, senior SAD leaders and MPs Sukhdev Singh Dhindsa, Balwinder Singh Bhundur and Prem Singh Chandumajra said farmer organisations, particularly the BKU Ekta, Ugrahan and others were trying to "sow discord" in the peasantry for vested interests. Stating that these organisations have earlier also used similar tactics to "destabilise" the social order, the MPs urged the government to continue to address genuine demands of farmers, but stand firm against any attempt to disturb the social fabric in the state.—TNS
Top Stories