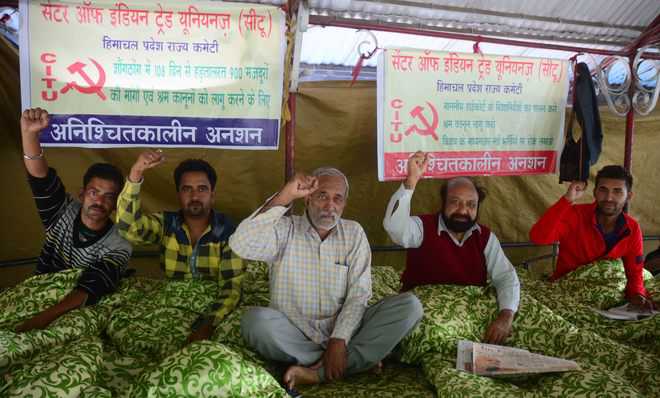 Tribune News Service
Shimla, July 5
The Himachal Kisan Sabha today threatened to initiate contempt proceedings against the Congress government and the Deputy Commissioner Kinnaur as they have not taken any step to resolve the workers dispute with the private company engaged in the 450 mw Shongtong –Karcham power project. CITU-supported fast unto death by workers entered the fourth day today.
Kisan Sabha state president Dr Kuldip Tanwar lambasted the state government and Kinnaur Deputy Commissioner for violating the High Court order which has directed the DC to settle the dispute. Tanwar said that the Deputy Commissioner and the state government had not started the process of solving the dispute despite the strike continuing since March adding that the state-run HPCL was suffering huge losses. "We will move contempt proceedings in the case", he warned.
The handling of the workers strike has proved that the state government is anti-workers, anti-farmers and anti-employees, Dr Tanwar alleged. "We support the CITU-led hunger strike and will launch a statewide agitation of farmers if the workers wage dispute was not resolved immediately", he said.
Tanwar also lambasted the BJP for its statement that the CITU was misusing the rain shelter, the venue of the hunger strike. "The BJP should refrain from petty politicking and its anti-worker stand", he added.
Meanwhile, CITU leaders led by Dr Kashmir Thakur continued to sit on the fast unto death for the fourth day today. The fast will continue until workers' dispute was resolved, Thakur asserted.