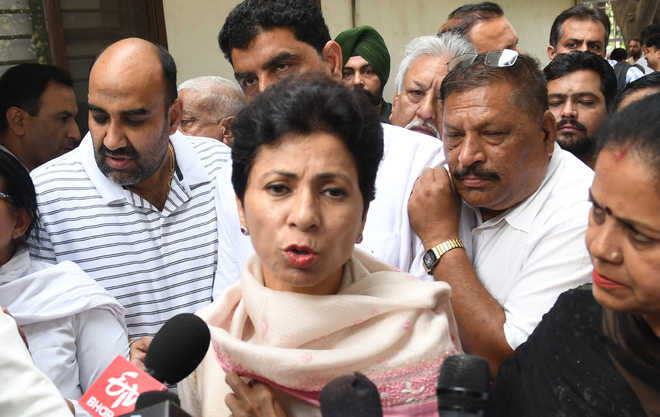 Aditi Tandon
Tribune News Service
New Delhi, November 8
Haryana Congress president Kumari Selja on Thursday said building the party organisation in the state was the next big challenge and, for that, a membership drive would soon be launched.
Selja, who, along with Congress Legislature Party (CLP) leader Bhupinder Singh Hooda, steered the party to victory in 31 out of 90 seats in the recently held Assembly elections, also said a serious introspection of electoral losses would be done for future course correction.
Taking note of Congress candidates losing deposits in 27 seats, Selja said in an interview to The Tribune, "Serious introspection and assessment of each seat will have to be done. We can't afford to be complacent."
On the newly formed Jannayak Janta Party (JJP) bagging 10 seats in the Jat-dominant belt, Selja said the Congress was analysing the reasons for JJP's rise and the Congress ending up a poor third in most of these segments.
The Congress leader also hinted that the party could have won the elections had the new team (she and Hooda) been given the reins earlier.
"One always speaks wisely in hindsight. Now, I can say the Congress could have fared better and formed the government. Nevertheless, I am grateful to people who showed faith in the Congress," she said, adding the party successfully pinned the BJP down to bread-and-butter issues.
Selja credited Congress' performance to the nuanced poll narrative. "On Day One (of taking charge), I had decided that we would put the BJP on the back foot as far as their narrative of Article 370 and NRC was concerned. These issues did not resonate with the people of Haryana. We shaped our narrative right."
To a query about the Congress underrating itself in Haryana and not believing it could post a decent performance, Selja said, "I always had faith."
Why party's senior MLAs Kuldeep Sharma, Karan Dalal and Randeep Surjewala lost? She said, "These leaders were our strongest candidates. Sometimes, local factors come into play. That doesn't mean the leaders in question are not our best candidates."
Selja, however, admitted to organisational vacuum in Haryana being a major hurdle in the way of party's poll performance and said the task of organisation building would start soon.
"The priority is to build the organisation. We will soon undertake a membership drive. Subsequently, committees at the level of booth, block and district will be formed. At present, no such structure exists," she said.
On Congress' priorities as the principal opposition in the state, Selja cited three areas of outreach. "Economic slowdown, farm distress and rising unemployment will be key areas for the Congress. The party was quick off the mark on the Regional Comprehensive Economic Partnership and the Centre had to back down," she added.
Top Stories