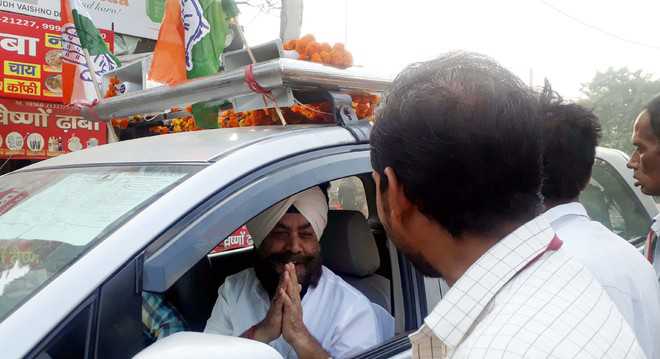 Parveen Arora
Tribune News Service
Karnal, October 13
Even though the Congress has announced its election manifesto focusing on loan waiver and raising old-age pension, the Congress candidate from Karnal, Trilochan Singh, former chairperson, Haryana Minority Commission, has lots of local issues on his mind on which he wants to work if voted to power.
The development of aviation club into a domestic airport, facilities under national capital region and job creation by establishing industries are among Singh's priorities.
"The BJP has failed to deliver even the basic amenities to the people. It has not fulfilled the promises made during 2014 Assembly elections. The roads of CM City are in a pathetic condition and the law and order situation has deteriorated," said the Congress candidate who is contesting against Chief Minister Manohar Lal Khattar.
Talking to The Tribune at his election office, he said that the BJP has not provided the desired employment. It has made mockery of unemployed youths by providing qualified youths meagre jobs.
"Jobs to unemployed youths will be my top priority if I am elected," said Trilochan Singh. He said that the CM had promised to upgrade the aviation club into a domestic airport, but the promise has not been fulfilled in five years.
"Karnal was included in the NCR in the Congress regime, but the present government did nothing about it. As a result, Karnal could not get facilities under the NCR project," he added.
Trilochan Singh said that work on the Karnal Municipal Corporation building was started around four years back, but it has not been completed.
"If I am elected MLA and our government assumes power, we will not implement the amended Motor Vehicle Act that enhanced the fine on various traffic rule violations," he said.
On being asked about the absence of two-time former MLA Sumita Singh from his campaign, Singh maintained that she is with him and is extending all kinds of support to him. Due to some family engagements, she is out of the city and would join the campaign in a couple of days, he said.
On BJP targeting a victory by more than one lakh votes from Karnal seat, he said that on result day, the misconceptions in the minds of BJP workers and leaders would be shattered.
Top Stories