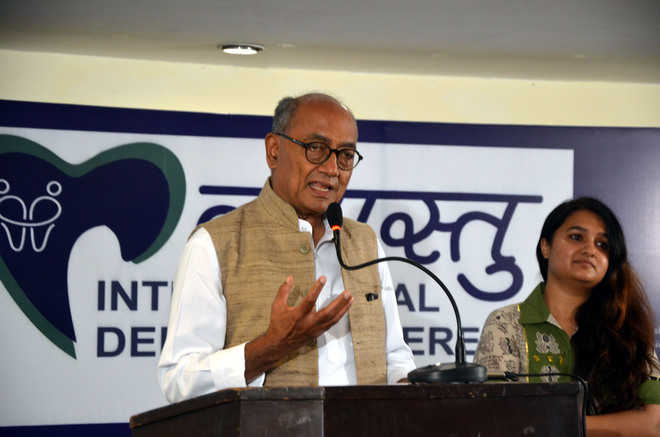 Tribune News Service
Dharamsala, October 12
Digvijay Singh, senior Congress leader and former Madhya Pradesh Chief Minister, said today that Rahul Gandhi should not have resigned from the post of AICC president and should have continued to lead the Congress. He was here to inaugurate the conference of dental surgeons.
Digvijay Singh, while talking to mediapersons, termed Prime Minister Narendra Modi's cleaning of beach at Mahabalipuram in Chennai as mere theatrics. He said that the entire world was facing an economic recession. However, in India, the economic recession had been caused due to demonetisation and the faulty implementation of the Goods and Services Tax.
He said that due to the recession in the country thousands of youths were losing jobs and industries were closing down.
He said that the previous UPA government had started schemes such as MNREGA for the uplift of the poor. However, the BJP government was working just for the uplift of the top 10 rich people of the country.
Meanwhile, former minister Kaul Singh Thakur and Congress Legislative Party leader Mukesh Agnihotri campaigned for the party candidates in various parts of the Dharamsala constituency.
Kaul Singh, while addressing election rallies, alleged that the state government had stalled all developmental works. The government was borrowing more money from financial institutions and spending it in an unplanned manner.
'Recession in India due to demo, faulty GST'
The entire world is facing an economic recession. However, in India, the economic recession has been caused due to demonetisation and the faulty implementation of the Goods and Services Tax. The Union Government implemented demonetisation and the GST without homework and the country is now paying a price for it. Digvijay Singh, former Madhya Pradesh Chief Minister
Top Stories