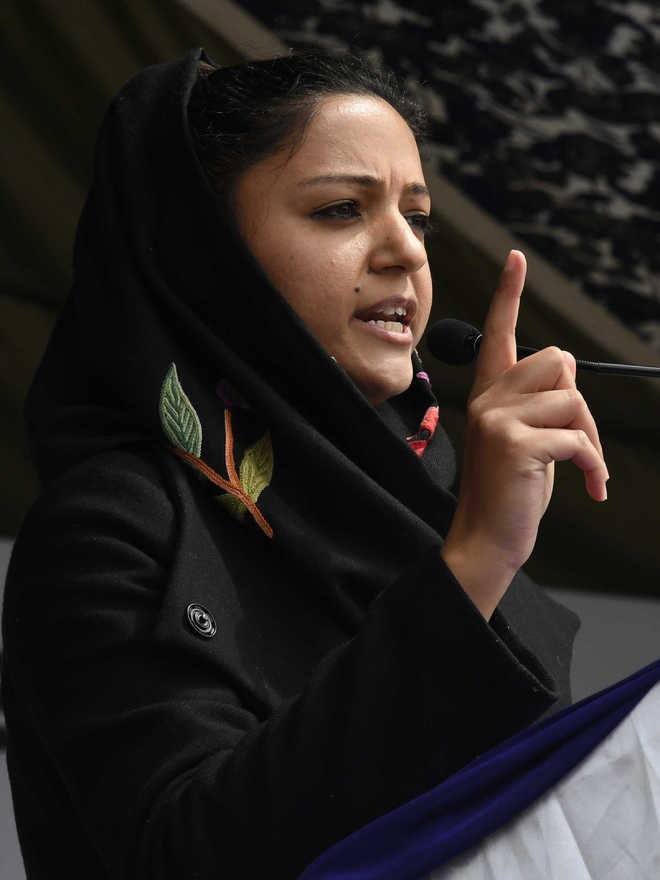 Aamir Khan
Tribune News Service
Srinagar, October 9
Former JNU student leader Shehla Rashid, who had joined bureaucrat-turned-politician Shah Faesal's party — J&K Peoples Movement (JKPM) earlier this year — today announced to quit mainstream politics.
Stating that she would continue to work as an activist, Shehla flayed the Centre for attempting to 'showcase normalcy' in Kashmir to the outside world post the abrogation of Article 370 and sought people's support to the Supreme Court petition seeking restoration of special status of J&K.
"....the Centre is soon going to hold elections to the Block Development Councils, in an attempt to showcase normalcy to the outside world!....the Centre's recent actions have shown that, when it comes to J&K, it doesn't even respect its own laws, forget international law.....I would, therefore, like to make clear my dissociation with the electoral mainstream politics in Kashmir. I stand in solidarity with my people who are being made to suffer for even the most basic amenities," Rashid announced in a statement.
She had joined the JKPM when it was launched in March 17 and was seen in several party rallies later, especially in rural areas. The JKPM had also announced to contest Assembly elections in alliance with the Awami Ittehad Party led by former MLA Langate Engineer Rasheed.
She also censured the Centre for 'pushing' people out of the mainstream despite inviting them to join politics. "The government of India keeps inviting the youth to 'join the mainstream'. However, the Centre's actions have, for decades now, only served to push people out of the mainstream. If being in the mainstream means compromising on the basic interests of your people, then one cannot be part of such a mainstream!"
"I will continue to be an activist and raise my voice against injustice on all fronts that do not require a compromise, and I'll continue to put my energies behind the Supreme Court petition seeking the restoration of special status of the state, and the reversal of bifurcation of the state. I request people to support me and my co-petitioners in this fight," she added.
Rashid also said the Centre wanted to 'install puppet leaders' in J&K. "....what is underway is not democracy, but the murder of democracy. It is a plan to install puppet leaders."