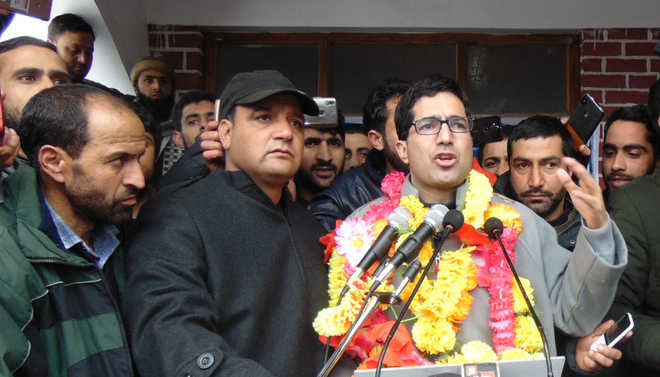 Tribune News Service
Srinagar, February 4
Less than a month after he resigned from the IAS to join politics, Shah Faesal started his political journey from his home district of Kupwara, declaring that he was there to contest the elections to rid the people of corruption and nepotism.
At a public meeting in Kupwara, the 2010 IAS topper from Kashmir said it was painful to see the people suffering on various fronts, be it the problem of public services in distant areas or the youth killings. He expressed his concern over the killing of PhD scholars and educated the youth being attracted to militancy and getting killed in the ongoing conflict in the state.
"I wanted to be at a place where I could raise my voice for my people," Faesal told the gathering amid applause on his first public appearance in his hometown in north Kashmir. He blamed the political parties for lacking a "sense of responsibility" in addressing the issues being faced by people at different levels, be it the civil secretariat or the healthcare services in the rural and far-flung areas, despite of the tall claims of successive governments.
Though he had left for the US to get higher studies, Faesal said the sufferings of people back in the state continued to pain him and it was because of this concern that he "decided to come back and work for them". He referred to problems such as lack of adequate medical facilities in the Kupwara District Hospital, where a woman was recently referred to Srinagar and had to deliver her baby on the roadside. He also referred to the lack of the redressal of grievances of the people at the civil secretariat.
The former IAS officer, having been in the administration for about eight years, said there was rampant corruption in the state, which led to the lack of various facilities and non-utilisation of funds for public services.
Though he has decided to join politics, Faesal early last month said he would visit all districts and talk to all stakeholders in the state before deciding to contest the parliamentary elections ahead.
Top News
Police release new footage; 'Waris Punjab De' chief spotted ...
The case was filed against Gandhi for his alleged 'how come ...
Can't keep defaming people, democracy and the country and ex...
Lawyer Abhishek Singhvi discusses legal strategy with Rahul ...
In 2017, top court declared practice of instant triple talaq...