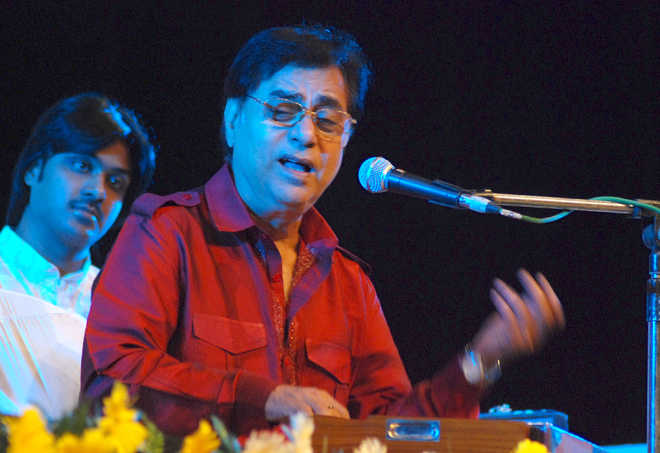 Mona
Tum Itna Jo Muskura Rahe Ho, Hosh Walon Ko Khabar Kya, Chhitti Na Koi Sandesh — romance or heartbreak, if it was a ghazal, it had to be Jagjit Singh. Such was the charm of the singer with a golden voice, who ruled hearts of his fans for close to six decades and continues to live on. Not just his mellifluous voice, people who collaborated with him remember him for his true Punjabi nature — he was gregarious, fun, kind and compassionate. On his death anniversary on October 10, we touch base with people he collaborated with for many gems that we continue to enjoy.
Golden notes
For two of his films, there were ghazals that director Ajai Sinha felt only Jagjit Singh could do justice to. "Unki aawaz mein ek kashish hai," shares Sinha. He adds, "For songs I approached him, he was keen to know the story. When I asked him about the fees, he was reluctant to quote a sum saying, jo man ho de dena. Even after the song, he accepted half the sum we thought about, he was like, bus ho gaya na', so maginimous was he."
God's gift
"Being a student of literature and philosophy Jagjit Singh always stimulated my senses," shares director Rakesh Ranjan Kumar. He adds that the maestro gave his voice for his film Gandhi to Hitler in a song titled Har Ore Tabahi Ka Manzar. "His words accompany me and guide me." Ranjan maintains that it was only Jagjit Singh who upheld the soul of true Indian classical after the division of India and Pakistan. "I suppose even Ghulam Ali Saab acknowledged his voice as a God's gift."
Ashwini Chaudhary got in touch with Jagjit Singh for his film Dhoop. "My first meeting with him was at his place, where I went with Nida Fazli who introduced me," says Chaudhary. He insisted on listening to the story and was visibly moved. "I couldn't place it at that time until we recorded the last ghazal."
Unlike many singers, Jagjit Singh sat through the writing of the ghazals. "We had huge arguments about choice of words. They were stuck on the word ehatjaaj, which Jagjit thought people wouldn't understand this word that meant revolution, but Nida was of the view that those who listen would find the meaning and I sided with Nida. It was only post a long argument that Jagjit gave in," says Chaudhary.