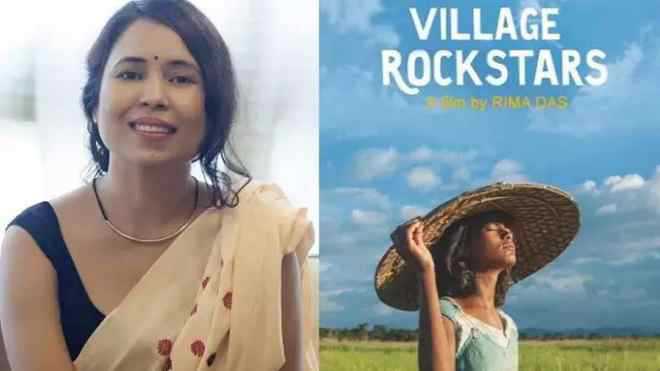 Manpriya Singh
Who knew that little stars from a hitherto unknown village called Chhaygaon would literally rock the film festival circuit? We guess not the director Rima Das, as she set out with a hand-held camera and shoestring budget to capture the journey of Dhunu, a girl who grows up on the underprivileged side of the world and learns to fend for herself; at the same time never letting go of her dreams — which are forming a rock band and owning an electric guitar someday. Set in Das' own village of Chhaygaon in Assam, Village Rockstars is the story of poor children who, nevertheless, live a fun-filled life.
After the 12-member jury (constituted by film Federation of India and led by Kannada producer SV Rajendra Singh Babu) announced Rima Das' National Award-winning Assamese feature film Village Rockstars as the official contender for Oscars 2019 in the Best Foreign Language Film category on Saturday morning, Rima Das probably put her phone on 'do not disturb' mode. But not before conveying her gratitude and saying what she had to!
"It feels great. I don't have many words to explain. The whole journey is kind of a fairy tale. It is a huge recognition for northeast and I think it is the first Assamese film to get selected. So I believe it will change a lot for filmmakers from the region. I was always hopeful. I was always looking forward to going to the festivals and winning accolades."
We're sure by now the tears of joy and the news have sunk in!
Spotlight on northeast
Yes, it indeed is a huge recognition for cinema from the northeast. The region, which it is no secret, for a long time has felt disconnected from the rest of the country. Director of III Smoking Barrels, Sanjib Dey, feels finally the country is taking note of cinema from the northeast.
"The whole tradition of cinema in the northeast was quite strong. There was a time when films from this region where highly revered and they did good business too. But with the rise of multiple insurgency movements in the last few decades, I have no doubt that cinema has suffered the most in this region."
A great time
Actress Dipannita Sharma feels it's a great time for Assamese cinema. "Being from the northeast and having won accolades for my first Assamese film across the world, it makes me very proud that another Assamese film, which has been appreciated for being 'real' and 'all heart', is the official selection for the Oscars from India."
Meanwhile, starring Bhanita Das in the lead role, Village Rockstars, had its world premiere at the 2017 Toronto International Film Festival (TIFF) and has toured more than 70 prestigious international and national film festivals. The coming-of-age film had bagged the Best Feature Film trophy at the 65th National Film Awards, besides also winning Best Child Artist, Best Location Sound Recordist and Best Editing awards.
Other films that rock
As many as 27 other films from the nomination list, including Sanjay Leela Bhansali's Padmaavat, Raazi, Hichki, October, Love Sonia, Tumbaad, Halkaa, Kadvi Hawa, Manto, Bioscopewala, 102 Not Out, Padman, Nude, Gali Guleiyan and Malayalam film Bhayanakam were among the others in the list of films submitted for next year's Oscars.
Did you know?
No Indian film has ever won an Oscar. The Indian films to have ever made it to the final five in the Best Foreign Language Film category include Lagaan, Mother India and Salaam Bombay. Last year, we pinned all hopes on Rajkummar Rao's Newton, last to last year on… never mind, all eyes (actually hopes) on are on the 91st Academy Awards, scheduled to take place on February 24, 2019.
Top News
Growth propels Indian Economy to USD 3.3 trillion, sets the ...
Both sides agree to hold 19th round of high-level military t...
Former CM Charanjit Channi denies allegations
Governor Banwarilal Purohit administers the oath of office a...
The suit filed in August 2021 sought permission for daily wo...